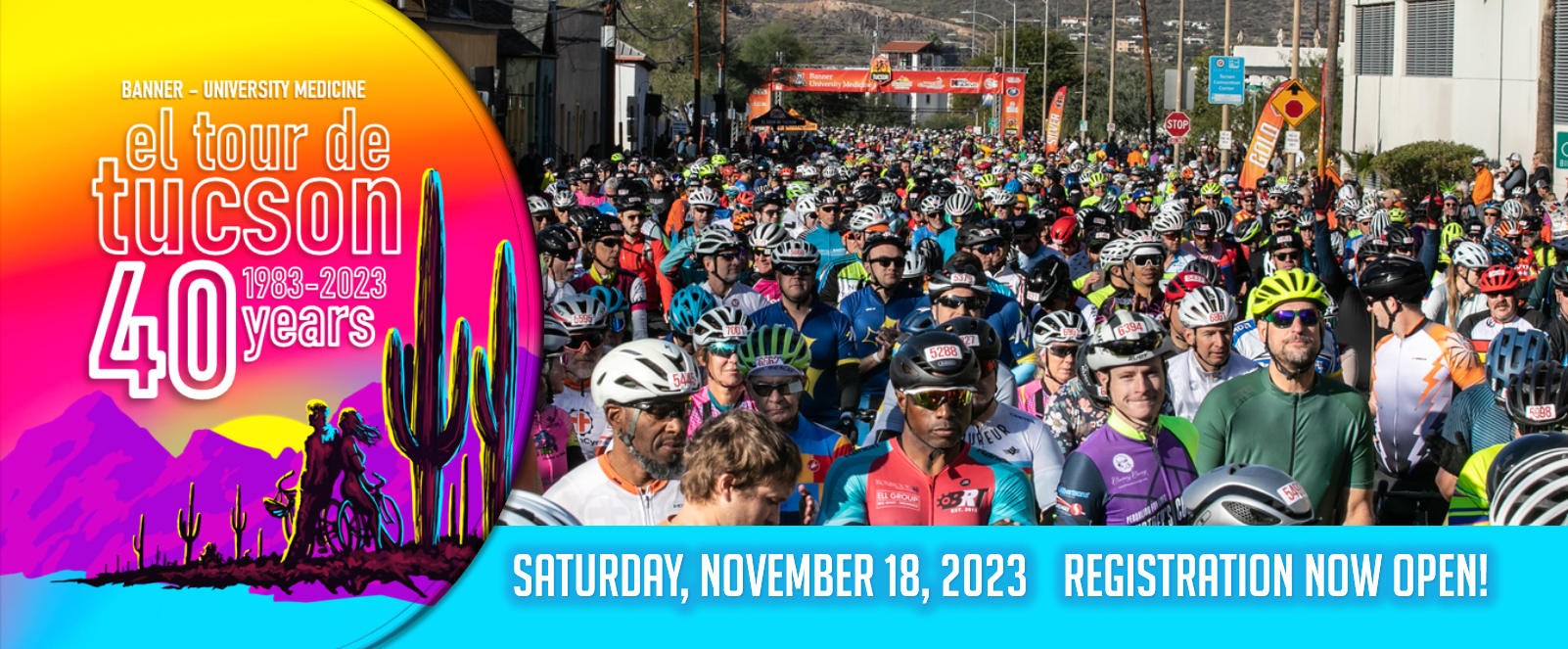 How is El Tour de Tucson preparing for the 2021 event?  Will participants be required to adhere to specific coronavirus (COVID-19) guidelines?
The health and safety of the cycling community is our top priority, and all event participants and attendees will be required to adhere to specific coronavirus (COVID-19) guidelines. We are working with our agency partners to plan a safe and enjoyable event and we recognize that guidelines are likely to change between now and November. We will continue to keep everyone updated on the latest health and safety procedures and guidelines.
Will El Tour de Tucson require participants to wear masks?
El Tour de Tucson as well as the Fiesta & Expo are all completely outdoors.  There are currently no mask requirements for outdoor activities.  You will be required to wear a mask for indoor settings that may including inside shuttles and SAG vehicles and we encourage mask wearing for outdoor spaces where social distancing may not be possible. El Tour de Tucson will adhere to local guidelines and best practices. Depending on the future state of COVID-19 and working in collaboration with public health and medical experts will determine that status.
Will El Tour de Tucson require COVID-19 tests or vaccination to participate in the 2021 event?
El Tour de Tucson will follow recommendations from the CDC and local health departments regarding COVID-19 testing and vaccinations.  We are strongly encouraging participants to get vaccinated, if eligible. However, we are not requiring vaccinations to participate currently. We expect all those who participate in El Tour de Tucson to be vaccinated or have tested negative for the COVID virus in the last 72 hours. This expectation is necessary to ensure the safety of all those attending and participating.  If you have not been vaccinated, tested negative for the COVID virus within the last 72 hours, or if you are currently having COVID symptoms, or if you are in any way concerned about your personal health, we encourage you to not attend these activities.
Here is a link to locations that offer free COVID-19 vaccinations.  https://www.vaccines.gov/
If El Tour de Tucson is postponed due a new COVID-19 outbreak, will I lose my money for registration?
We fully are planning to host this event on November 20, 2021.  But, If El Tour de Tucson gets postponed due to new outbreaks, you will not lose your registration.  Your registration will be rolled over until the time that is deemed safe enough to host the event.
WHAT PEOPLE ARE SAYING
TOUR DE TUCSON is checked off my bucket list!!!! What a great experience and I placed in the top 800!!! It's not about winning it, it's about finishing it!
Tucson is an incredible city and beautiful location for a large cycling event. El Tour brings together cyclists from all over the world and promotes cycling, personal fitness, and community engagement.
El Tour de Tucson 2019! I think this is becoming an annual family tradition. So much fun!
Amazing -We were able to raise community awareness, serve our charity and have our multi-generational family get addicted to a new sport- cycling!!
El Tour is a fantastic experience and celebration of Tucson's cycling community.
Loved the ride. This is the 18th time I've done the ride and hope it comes back next year bigger and better.
@GabbyGiffords and I had a great time riding in El Tour de Tucson. I can't think of a better representation of Tucson than thousands of people coming together outdoors to help raise money for the causes they care about.