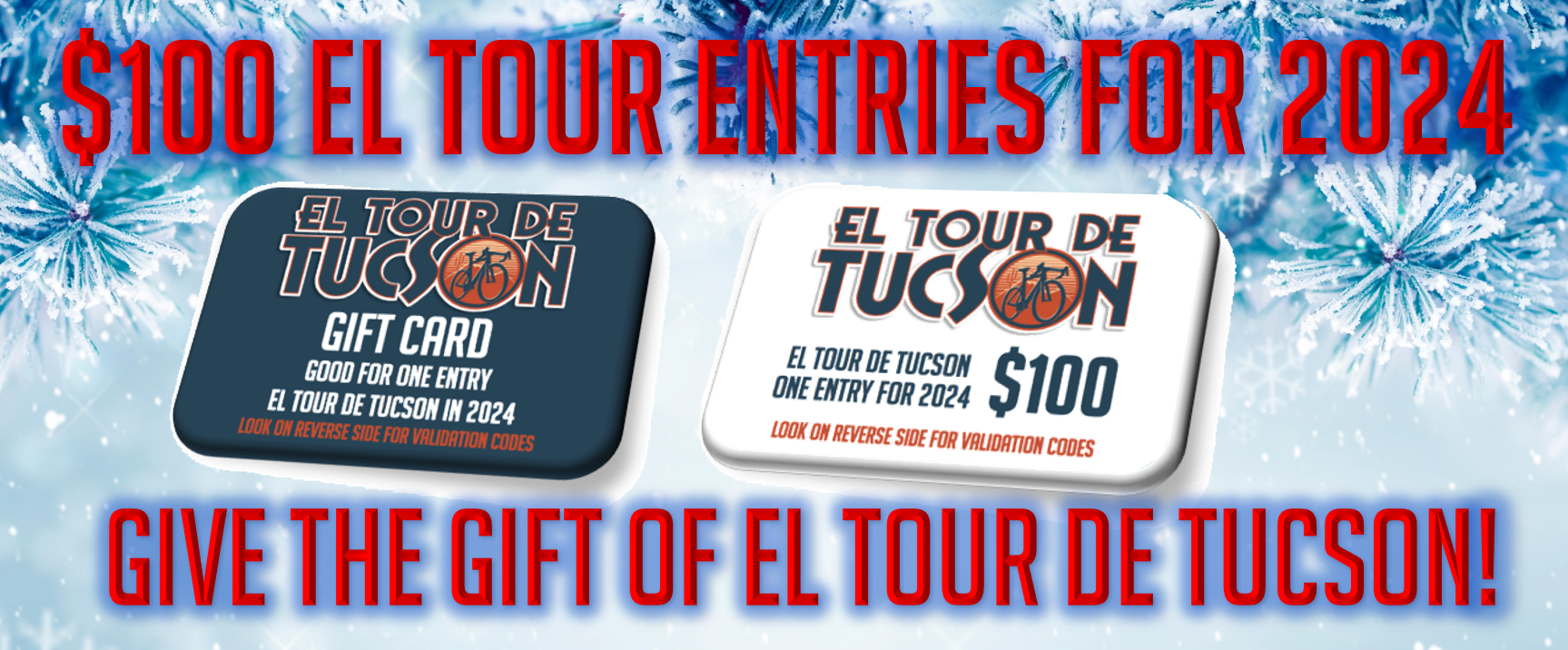 EL TOUR DE TUCSON'S BIKE PATROL TEAM
…Join the team that is the helping hands, eyes and ears of our events.
The Bike Patrol Team helps cyclists on the route with minor mechanical aid, first aid and moral support.  Nearly 300 certified Bike Patrol cyclists bring enthusiasm for cycling and a deep pool of experience to ensure the success of thousands of riders in Perimeter's events every year.  They ride all or part of an event's route stopping to assist other cyclists and report their activities to headquarters during the event. 
Each Patroller must be certified to ride an event – a short class ensuring that you know what to expect and what is expected of you during an event.  Certifications must be renewed every two (2) years.
All Bike Patrol Team members in an event receive a special Bike Patrol finishers medallion, an event t-shirt and could qualify for the Outstanding Bike Patrol
The Bike Patrol Team stands out from other cyclists with either the Bike Patrol Jersey or a special Bike Patrol t-shirt that must be worn while patrolling an event.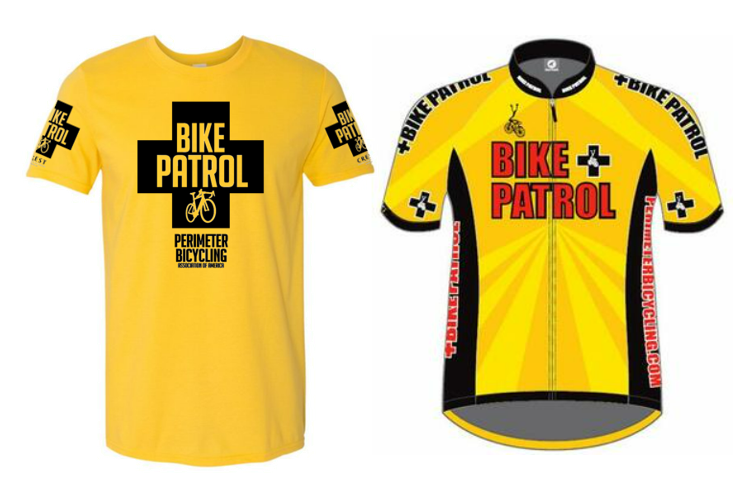 You can purchase a BP jersey ($50) which is far more comfortable and stylish.
It's not all about being on the bike.  Sometimes help is needed to:
answer phones on ride day to record activity of BP on the route
staff the Bike Patrol/Route booth at Expo/packet pickup
conduct the Safety/Orientation meetings at Expo
help manage the start lines, especially at the platinum area
teach a certification class
Requirements
Have the desire to help others-you must stop to help others
understand that you will not be timed for an event
knowledge & experience changing tubes on a bike (this is the most frequent activity during an event)
knowledge of replacing a chain
get certified (see class schedule)
register for an event
ride the event and report your activity
IMPORTANT:  Bike Patrol is for those who want to help/give back to the event and cyclists.  It is not for anyone seeking a cheap entry to the ride.
Supplies
We strive to gain the support of bike shops and sponsors to help but have found that Bike Patrollers' direct relationships with their favorite bike shop will often help with bike-related supplies such as tubes, tire levers, patch kits, pumps, as well as electrolyte replacement gels/powders.    El Tour will supply a small kit with first aid supplies and as much bike stuff as we can get for you.
What Bike Patrollers traditionally bring:
tubes/ patched or new
tire levers
pump – the bigger ones (don't wear out your arms)
electrolyte powders
bananas (from an aid station)
Bike Patrol Manual
The Bike Patrol Manual is a ready handbook of policies and procedures, event rules and other important information.  A hard copy is provided at Certification classes.
Bike Patrol List
Current Bike Patrol List
Help us keep our list current.  Let us know if we missed crediting you for an event. Also, check your certification date.  If your certification is not current, please plan to attend a class before your next event.  Thanks!
Bike Patrol List  Updated April 25, 2022
Certification Class Schedule
We will have online Certifications on the following dates, please click the link below to schedule a date that works for you:
8.29 @ 7-8pm
9.5 @ 7-8pm
9.19 @ 7-8pm
10.24 @ 7-8pm
11.7 @ 7-8pm
In person trainings are also available at the El Tour Office on the following Dates:
10.10 @ 6-7pm (At the El Tour Office)
11.4 @ 6-7pm (At the El tour office)"
El Tour Office: 3400 E Speedway Blvd #120, Tucson, AZ 85716
If you are interested, email bikepatroleltour@gmail.com to register
Bike Patroller of the Year Honors
Bill Sarnack
Jim Elkan
Greg Yares
Dennis Culley
Robert Hooper
Andy Depew
Richard Moeur
Eric Gonnason
Jim & Debra Harms
Bill Scott
Michael W Smith
Bike Patrol Hall of Fame
| | | |
| --- | --- | --- |
| | 50+ EVENTS | |
| | Michael W Smith | |
| | | |
| | | |
| | 40+ EVENTS | |
| Mike Chew | Sharon Newman-Matt | Rudy Van Renterghem |
| Doug Crockett | Walter Paciorek | Greg Yares |
| | Michael Sharp | |
| | | |
| | | |
| | 30+ EVENTS | |
| Radar Matt | Andrew Pezzulo, Jr | William Sarnack |
| | | |
| | | |
| | 20+ EVENTS | |
| Joe Cimino | Lee Ann Hamilton | Andrew Lamb |
| Spencer Davis | Randy Hamilton | Chuck Pinney |
| Robert Epstein | Larry Heaton | Robert Ryan |
| Thomas Fruciano | Robert Hooper | James Ulmer |
| Steve Graeber | Avery Jones | |
| | | |
| | | |
| | 10+ EVENTS | |
| Scott Bavarian | Jim Elkan | Dale Oldham |
| Valerie Beckam | Linda Epstein | Janice Peterson |
| Byron Brandon | Randy Garmon | Ralph Prince |
| Ken Brandstatt | Micheal Gordy | Richard Qualls |
| Allan Cameron | Bob Graninger | Patrick Rinckey |
| Stephen Carlat | Jill Hewins | Jack Rubino |
| Paul Cinalli | Gregory Lor | Richard Scott |
| Nancy Clayton | Al Miller | Richard Smith |
| Dennis Culley | James Mills | Vinny Yakanin |
| Marty Doane | Tom Mouch | |
WHAT PEOPLE ARE SAYING
TOUR DE TUCSON is checked off my bucket list!!!! What a great experience and I placed in the top 800!!! It's not about winning it, it's about finishing it!
Tucson is an incredible city and beautiful location for a large cycling event. El Tour brings together cyclists from all over the world and promotes cycling, personal fitness, and community engagement.
El Tour de Tucson 2019! I think this is becoming an annual family tradition. So much fun!
Amazing -We were able to raise community awareness, serve our charity and have our multi-generational family get addicted to a new sport- cycling!!
El Tour is a fantastic experience and celebration of Tucson's cycling community.
Loved the ride. This is the 18th time I've done the ride and hope it comes back next year bigger and better.
@GabbyGiffords and I had a great time riding in El Tour de Tucson. I can't think of a better representation of Tucson than thousands of people coming together outdoors to help raise money for the causes they care about.