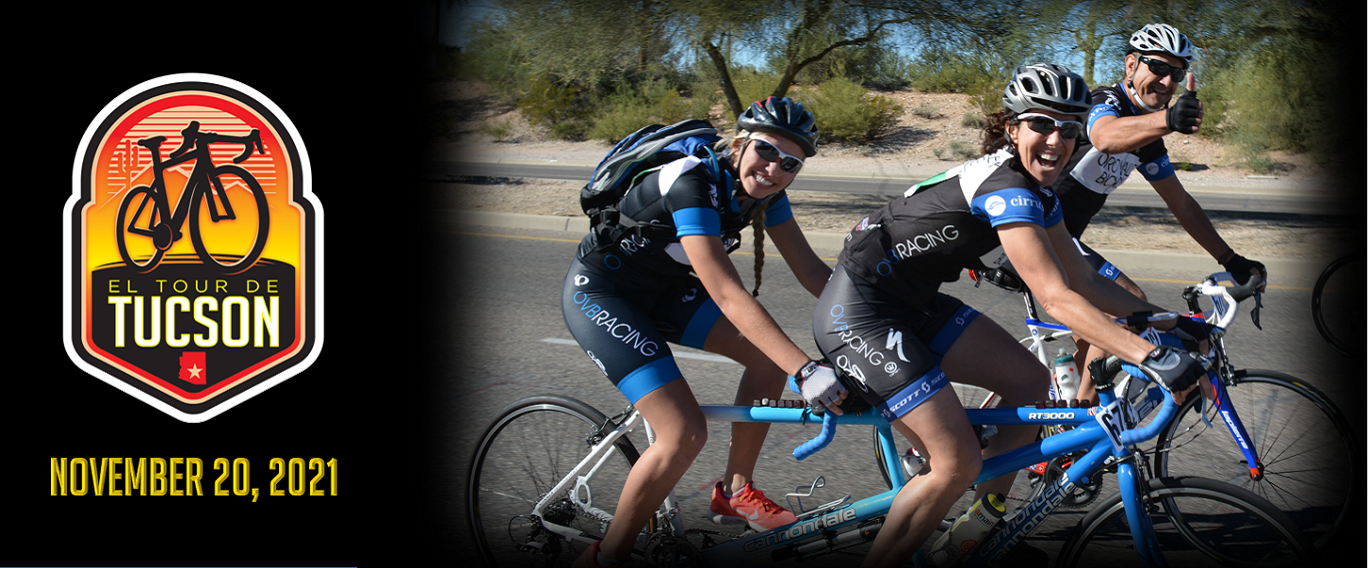 RIDER GUIDE
A CAREFUL READER IS AN
INFORMED RIDER. INFORMATION IS POWER.
The Ride - November 20, 2021
A bucket list item for many!  We are now entering our 38th year in preparing for what we think is one of the premier bicycling events in the country.
Event Benefits for all Registered Cyclists
Medallion to all finishers
Free admission to the Tour Expo/Packet Pickup
Fruit, snacks and water at aid stations every 7-12 miles
SAG support
Opportunity to earn special Awards
Traffic control on route
First Aid support
Electronically timed finish
Results published on website
New Routes!
Perimeter Bicycling and El tour de Tucson are thrilled to start 2021 with unveiling of exciting new ride routes; 102 Mile, 57 Mile.
The 102 and 57 mile routes will engage new parts of the majestic Sonoran desert.
Debut! E-Bike category into our 28 mile route.
4 Routes Up to 100 Miles
There are 3 main routes to choose from along with a Family Fun ride.
102 Mile Century Ride
57 Mile Route
28 Mile Route
Chapman Automotive Fun Ride – 10, 5, or 1 mile
Start/Finish Times and Locations
El Tour's FINISH LINE for all events and START LINE FOR the 100 mile, 57 mile and Fun Ride is on SIXTH AVE between Armory Park and the Children's Museum. Armory Park Tucson, 221 S. 6th Ave, Tucson, AZ
28 Mile Route Starts in Marana Heritage River Park and will end at Armory Park. 12375 N Heritage Park Dr, Marana, AZ 85653
START TIMES:
102 mile El Tour start (7:00 am)
57 mile El Tour start (10:00 am)
28 mile El Tour start (12:00pm)
28 mile E-Bike El Tour start (12:15pm)
Chapman Automotive FUN RIDE start (8:00 am)
Bike Shipping
If you are looking to ship your bicycle to or from Tucson, find information about bike shipping through Bike Flights and receiving and assembling your bike through Bicycle Ranch Tucson.
Bike Patrol
The mission of Perimeter Bicycling's Bike Patrol program is to promote safety, provide assistance, encouragement, and support for the participants of Perimeter events.
Patrollers offer mechanical assistance, first aid as needed and encouragement to successfully finish the ride. 
Platinum Designation
Platinum cyclists are those in the 100 mile distance with extensive experience in riding in a pack/peloton. Cyclists must meet specific criteria to earn platinum designation and must attend a special meeting.  Visit the Platinum Designation link for full details, including meeting times, how to get the pass required to enter the platinum corral on ride day, etc.
PLATINUM DESIGNATION INFORMATION
Volunteers
Parking Options
There are lots of parking options in Downtown Tucson. But some of them are free while others are not. 
Please click here for map of places to park
Where Not To Park
PARKING RESTRICTIONS ON SURROUNDING STREETS
Residential streets around El Tour's start/finish line are RESTRICTED!  Permits are required for residents, non-permitted vehicles will be ticketed.   Please WATCH THE SIGNS ON THE STREETS – don't get a ticket!
COMING SOON:
ARMORY PARK STREET CLOSURES MAP 

FESTIVAL PARKING MAP 
SHUTTLES:  28 Milers  – getting back to your Car
All cyclists are responsible for transportation to event start lines. 
There are two options to get back:  Have someone drop you off at the remote start where your event begins.  Or, you can take a FREE shuttle back to the remote start line where you began your ride.
When you finish your ride at Armory Park, (Finish Line for ALL events), drop your bike off at the FREE Secure Bike Valet just south of the Fiesta at Armory Park and take the FREE shuttle back to where your event start line.  Volunteers at the Information Tent will direct you to the Bike Valet and the shuttle boarding location. Due to limited space, shuttle vans are unable to transport your bicycle with you.  Each cyclist will be given a Bike Check ticket that must be surrendered when you return to the park to retrieve your bike.  Don't lose your ticket. 
Shuttles begin at 1:00pm on the east side of the Armory Park Senior Center (east of the festival).  Last shuttle pick up is at 5pm.    All bicycles must be retrieved from Bike Check on Ride Day by 6pm
Bike Valet
Free and secure bike valet is available at the finish line on Saturday as part of the EL TOUR experience, complementary as part of your entry.
The Finish Line
The finish of EL TOUR takes place at the historic Armory Park.  As soon as you cross the finish line, valet park your bike and get a beer, food, walk around and see all of our vendors.  Live music begins at 11:30 am. Music line-up will be coming soon. The festival is over at 7:00 pm.
Awards
Each year we recognize riders that have achieved, inspired and encouraged cyclists. 
Rules
Rules are created to keep the playing field level for all participants. Violation of any rule may result in disqualification or time penalties. click here to review rules
Frequently Asked Questions
Please click here if you're not finding the information you need.  If you still have questions contact us at info@eltourdetucson.org
WHAT PEOPLE ARE SAYING
TOUR DE TUCSON is checked off my bucket list!!!! What a great experience and I placed in the top 800!!! It's not about winning it, it's about finishing it!
Tucson is an incredible city and beautiful location for a large cycling event. El Tour brings together cyclists from all over the world and promotes cycling, personal fitness, and community engagement.
El Tour de Tucson 2019! I think this is becoming an annual family tradition. So much fun!
Amazing -We were able to raise community awareness, serve our charity and have our multi-generational family get addicted to a new sport- cycling!!
El Tour is a fantastic experience and celebration of Tucson's cycling community.
Loved the ride. This is the 18th time I've done the ride and hope it comes back next year bigger and better.
@GabbyGiffords and I had a great time riding in El Tour de Tucson. I can't think of a better representation of Tucson than thousands of people coming together outdoors to help raise money for the causes they care about.