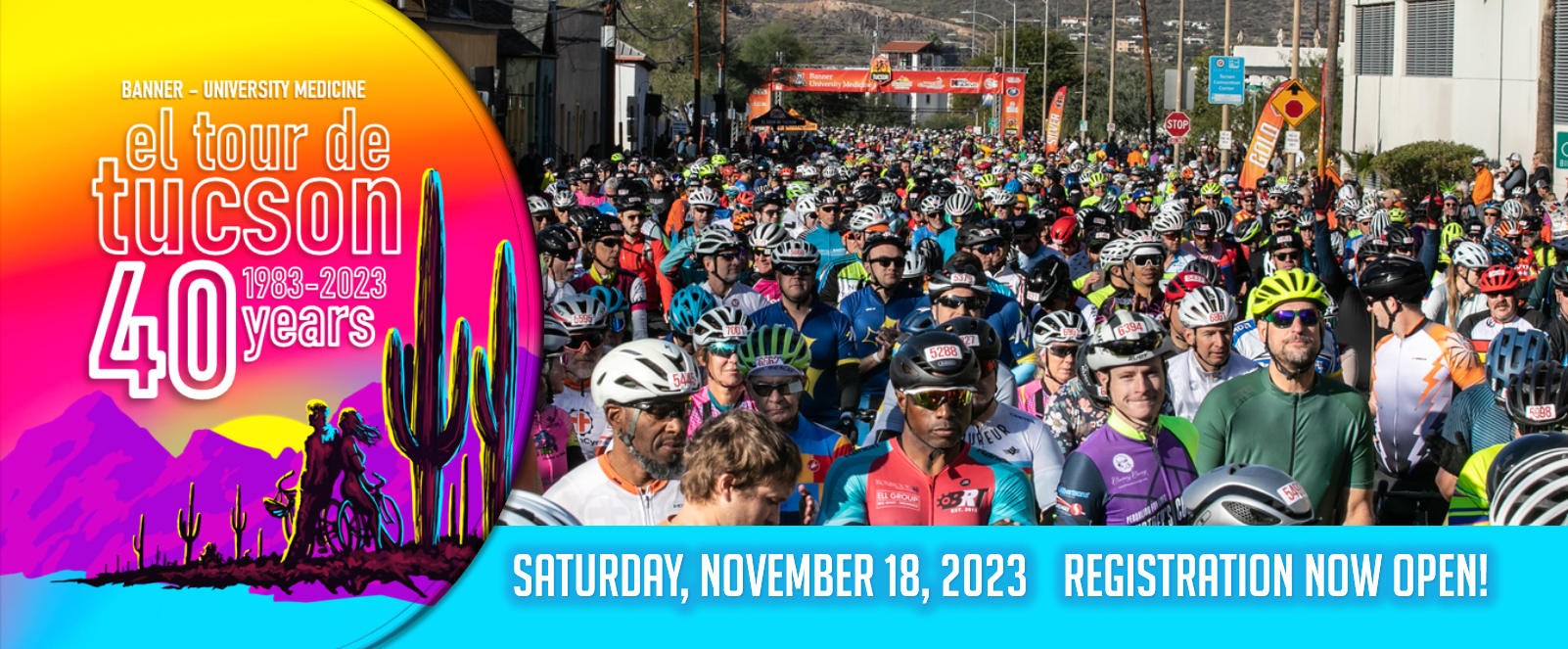 GENERAL INFORMATION ABOUT THE BANNER - UNIVERSITY MEDICINE 40TH EL TOUR DE TUCSON
El Tour de Tucson is now preparing to host the 40th year for what we think is one of the premier bicycling events in the country.  We hope you participate in this year's event on November 18, 2023.  You won't be alone given that annually over 7,500 cyclists participate in the renowned and popular event with distances from 102 miles to family fun rides of 1 mile!
Did you know that El Tour de Tucson enables nonprofit, charitable agencies to raise funds for their respective organizations?  Learn about their programs and sign up to ride on their teams here.  Since 1983, Perimeter Bicycling events have raised over $100 million for local and international charitable organizations.
The Routes & Start Times
Perimeter Bicycling and El tour de Tucson are thrilled to to bring this world class event to downtown Tucson.  El Tour de Tucson was recognized by USA TODAY as the country's Top Road Cycling Event.  All Rides/Routes start and finish at the Tucson Convention Center and the surrounding area.
The Century (7:00am start)
102 Mile
5K Run/Walk (7:30 am start)
3.1 Mile, certified 5K run/walk
The FUN Rides! (8:00 am start)
3 Mile / 1 Mile
The Metric Century (9:00 am start)
62 Mile/100 Kilometer
The Half Metric Century (10:00 am start)
32 Mile/50 Kilometer
The Casino del Sol Expo & Fiesta will be at the newly renovated Tucson Convention Center exhibition hall and surrounding grounds.  Most of the activities including the live music, food trucks, beer garden and some exhibitors will be outdoors!
Event Benefits for all Registered Cyclists
Event Benefits for all Registered Cyclists
Medallion to all finishers
Commemorative 40th Anniversary Pin
Personalized Ride Bib Number (through October 1st)
Free admission to the Casino del Sol El Tour Expo & Fiesta
Fruit, snacks and water at aid stations every 7-12 miles
SAG support
Opportunity to earn special Awards
Traffic control on route
First Aid support
Electronically timed finish
Results published on website
Registration Fees
$40 – Youth (age 17 or under)
$125 – Adults until May 31st
$135 – Adults until June 30th
$145 – Adults until July 31st
$155 – Adults until August 31st
$165 – Adults until September 30th
$175 – Adults until October 31st
$185 – Adults until November 10th
$200 – Adults until November 14th
$300 – Adults until November 18th
Non-Profit Team Ride Registration Fees
$125 – Adults until May 31st
$135 – Adults until June 30th
$145 – Adults until October 31st
Military Ride Registration Fees
$110 – Adults until June 30th
$120 – Adults until August 30th
$130 – Adults until October 1st
$145 – Adults until November 15th
Family Fun Ride Registration Fees
5K Run/Walk Registration Fees
Bike Shipping
If you are looking to ship your bicycle to or from Tucson, find information about bike shipping through Bike Flights and receiving and assembling your bike through Bicycle Ranch Tucson.
Vendors
Bike Patrol
The mission of Perimeter Bicycling's Bike Patrol program is to promote safety, provide assistance, encouragement, and support for the participants of Perimeter events.
Patrollers offer mechanical assistance, first aid as needed and encouragement to successfully finish the ride. 
Platinum Designation
Platinum cyclists are those in the 102 mile distance with extensive experience in riding in a pack/peloton. Cyclists must meet specific criteria to earn platinum designation and must attend a special meeting.  Visit the Platinum Designation link for full details, including meeting times, how to get the pass required to enter the platinum corral on ride day, etc.
PLATINUM DESIGNATION INFORMATION
CURRENT PLATINUM RIDER LIST (as of November 1, 2022)
Volunteers
Parking Options
The move to the new location at the Tucson Convention Center has an abundance of nearby parking for individuals and well as team vans or large vehicles. There are two large parking garages on property as well as a large surface parking lot to the west of the Tucson Convention Center.  There are also several city/county/private garages and lots within a block or two of the start/finish line.  
Bike Valet
Free and secure bike valet is available at the finish line on Saturday as part of the EL TOUR experience, complementary as part of your entry.
Awards
Each year we recognize riders that have achieved, inspired and encouraged cyclists. 
Rules
Rules are created to keep the playing field level for all participants. Violation of any rule may result in disqualification or time penalties. click here to review rules
Frequently Asked Questions
Please click here if you're not finding the information you need.  If you still have questions contact us at info@eltourdetucson.org
WHAT PEOPLE ARE SAYING
TOUR DE TUCSON is checked off my bucket list!!!! What a great experience and I placed in the top 800!!! It's not about winning it, it's about finishing it!
Tucson is an incredible city and beautiful location for a large cycling event. El Tour brings together cyclists from all over the world and promotes cycling, personal fitness, and community engagement.
El Tour de Tucson 2019! I think this is becoming an annual family tradition. So much fun!
Amazing -We were able to raise community awareness, serve our charity and have our multi-generational family get addicted to a new sport- cycling!!
El Tour is a fantastic experience and celebration of Tucson's cycling community.
Loved the ride. This is the 18th time I've done the ride and hope it comes back next year bigger and better.
@GabbyGiffords and I had a great time riding in El Tour de Tucson. I can't think of a better representation of Tucson than thousands of people coming together outdoors to help raise money for the causes they care about.