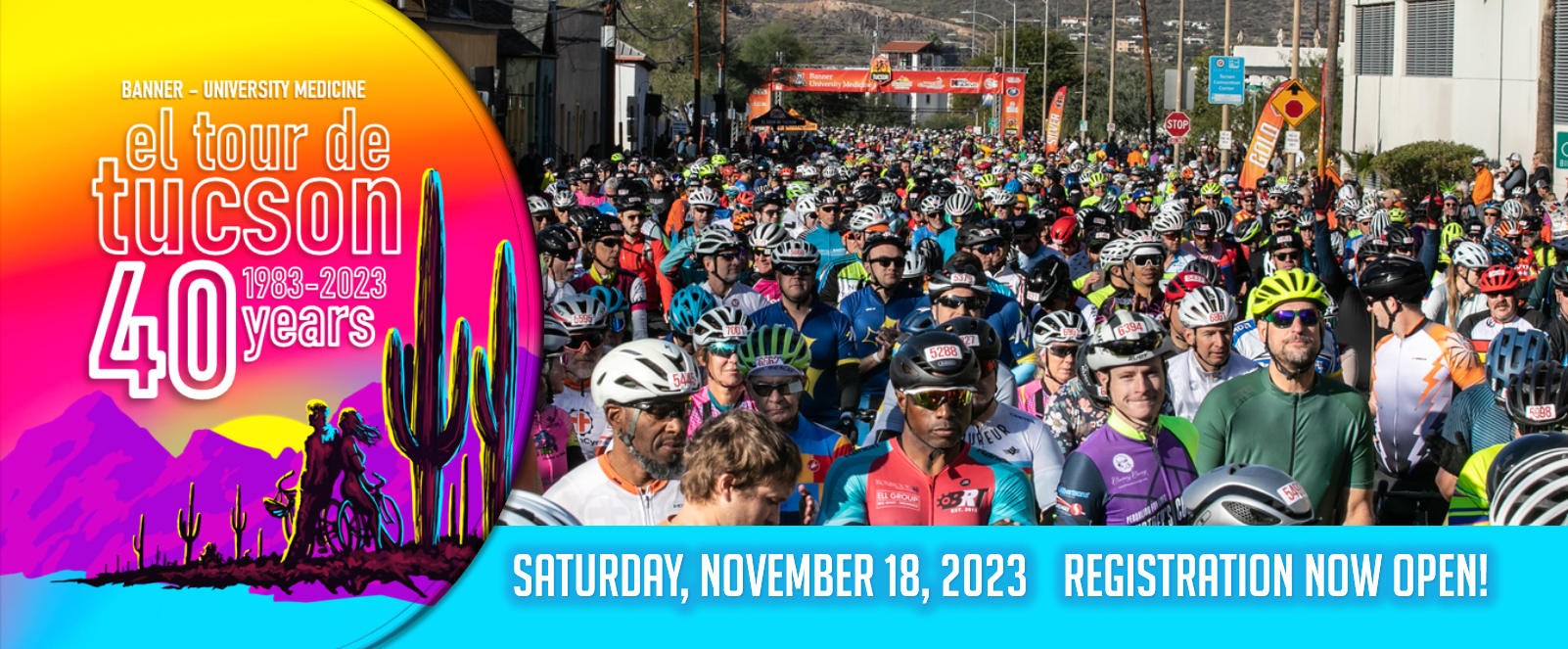 EL TOUR DE TUCSON SCHEDULE (Subject to Change)
El Tour de Tucson Expo & Fiesta 3-Day Schedule
Thursday – November 16, 2023
12:00 pm
El Tour 3-Day Expo & Fiesta is OPEN!!!
12:00 pm
El Tour Registration & Merchandise Zone is OPEN!!!
12:00 pm
Food Booth and Exhibitor Booths are OPEN!!!
12:00 pm
Platinum Meeting (Inside Tucson Convention Center)
12:00 pm
Dragoon Brewing Finish Line Beer Garden Opens
(Beer Garden Entertainment Begins)
1:00 pm
Safety & Route Orientation Meeting (Inside Tucson Convention Center)
2:00 pm
Safety & Route Orientation Meeting (Inside Tucson Convention Center)
3:00 pm
Safety & Route Orientation Meeting (Inside Tucson Convention Center)
4:00 pm
Safety & Route Orientation Meeting (Inside Tucson Convention Center)
5:00 pm
Safety & Route Orientation Meeting (Inside Tucson Convention Center)
5:00 pm
Entertainment (Stewart Title Main Stage)
6:00 pm
Platinum Meeting (Inside Tucson Convention Center)
7:00 pm
Safety & Route Orientation Meeting (Inside Tucson Convention Center)
8:00 pm
Safety & Route Orientation Meeting (Inside Tucson Convention Center)
9:00 pm
Expo & Fiesta Closes
   Friday – November 17, 2023
12:00 pm
El Tour 3-Day Expo & Fiesta is OPEN!!!
12:00 pm
El Tour Registration & Merchandise Tent is OPEN!!!
12:00 pm
Food Booth and Exhibitor Booths are OPEN!!!
12:00 pm
Platinum Meeting (Inside Tucson Convention Center)
12:00 pm
Dragoon Brewing Finish Line Beer Garden Opens
(Beer Garden Entertainment Begins)
1:00 pm
Safety & Security Meeting (Inside Tucson Convention Center)
2:00 pm
Safety & Security Meeting (Inside Tucson Convention Center)
3:00 pm
Safety & Security Meeting (Inside Tucson Convention Center)
4:00 pm
Safety & Security Meeting (Inside Tucson Convention Center)
5:00 pm
Bike Patrol Certification Meeting (Inside Tucson Convention Center)
5:00 pm
Entertainment (Stewart Title Main Stage)
6:00 pm
Platinum Meeting (Inside Tucson Convention Center)
7:00 pm
Safety & Security Meeting (Inside Tucson Convention Center)
8:00 pm
Safety & Security Meeting (Inside Tucson Convention Center)
9:00 pm
Expo & Fiesta Closes
Saturday – November 18, 2023 – RIDE DAY!  RACE DAY!
6:00 am
El Tour Registration & Merchandise Zone is OPEN!!!
6:00 am
Fun Ride & 5K Run/Walk Registration is OPEN!!!
6:55 am
Presentation of Colors/National Anthem
7:00 am
102-Mile El Tour de Tucson Platinum & Elite Ride Start
7:05 am
102-Mile (Century) El Tour de Tucson Ride Start
7:30am
8:00 am
5K Run/Walk (3.1 Mile Run/Walk)
Fun Rides Start (3 & 1 Mile Rides)
9:00am
62-Mile/100 Kilometer (Metric Century) El Tour de Tucson Ride Start
10:15 am
32-Mile/50 Kilometer (Metric Half Century) El Tour de Tucson Ride Start
10:30 am
Dragoon Brewing Finish Line Beer Garden Opens
10:45 am
First 102 Miler Finishers Expected
12:00 pm
Entertainment (Stewart Title Main Stage)
1:00 pm
102-Mile Awards Ceremony (Awards Stage)
2:00 pm
62-Mile Awards Ceremony (Awards Stage)
3:00 pm
32-Mile Awards Ceremony (Awards Stage)
4:30 pm
All El Tour de Tucson Routes Officially Closed
7:00 pm
Expo & Fiesta Closes, El Tour 3-Day Expo & Fiesta is Officially Closed
WHAT PEOPLE ARE SAYING
TOUR DE TUCSON is checked off my bucket list!!!! What a great experience and I placed in the top 800!!! It's not about winning it, it's about finishing it!
Tucson is an incredible city and beautiful location for a large cycling event. El Tour brings together cyclists from all over the world and promotes cycling, personal fitness, and community engagement.
El Tour de Tucson 2019! I think this is becoming an annual family tradition. So much fun!
Amazing -We were able to raise community awareness, serve our charity and have our multi-generational family get addicted to a new sport- cycling!!
El Tour is a fantastic experience and celebration of Tucson's cycling community.
Loved the ride. This is the 18th time I've done the ride and hope it comes back next year bigger and better.
@GabbyGiffords and I had a great time riding in El Tour de Tucson. I can't think of a better representation of Tucson than thousands of people coming together outdoors to help raise money for the causes they care about.