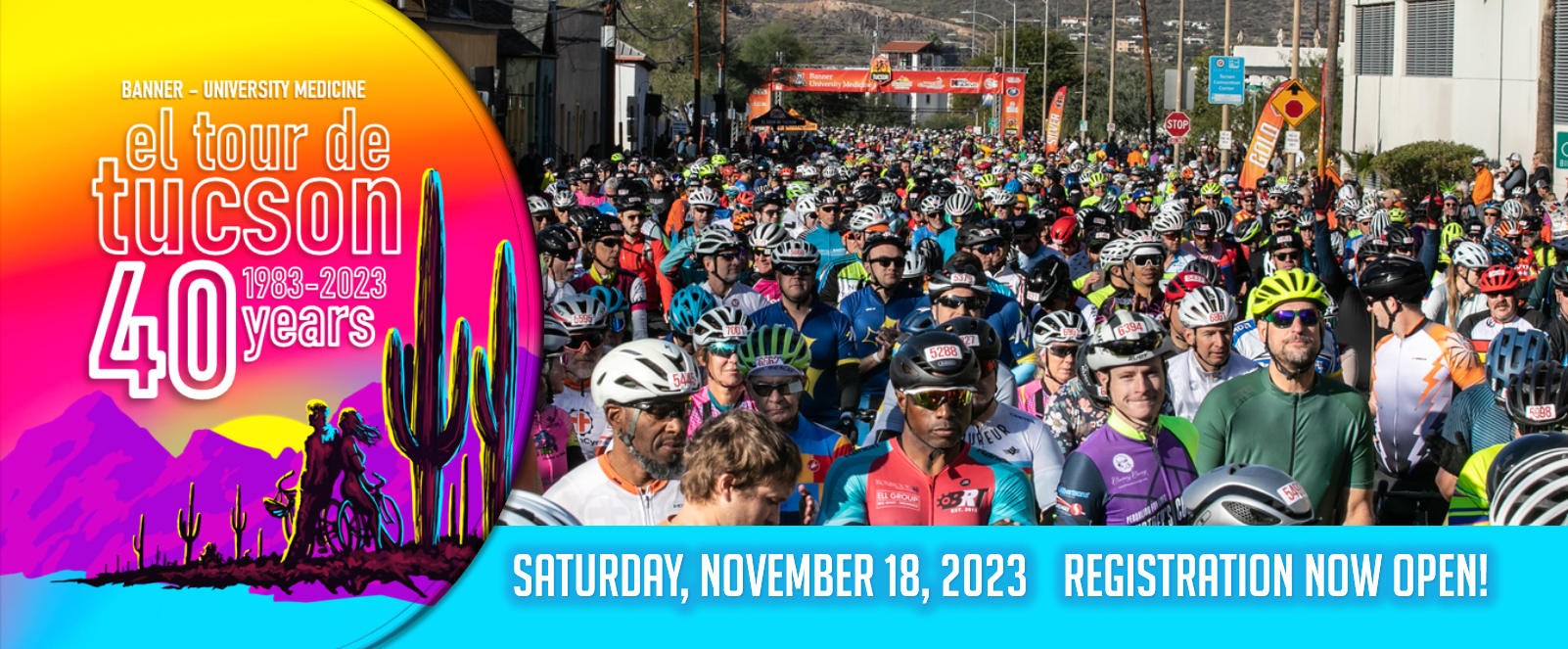 2023 ROUTE INFORMATION, MAPS, CUE SHEETS
Welcome! Perimeter Bicycling works with the many municipalities in the greater Tucson area to make cycling as safe as possible for everyone.  You will big improvements on much of the routes as many miles of construction has been completed to allow El Tour to roll as the best roads possible.  The final routes are the result of many meetings with officials, law enforcement and safety engineers from Pima County and the municipalities the route traverses.  All routes subject to change as we continue to get permits and permissions to use areas on the route. 
All Routes start and finish in Downtown Tucson!
Perimeter Bicycling and El Tour de Tucson are thrilled to offer great routes in 2023 including the 102 mile (Century), 63 mile/100 KM (Metric Century) and 32 mile/50 KM (Half Metric Century)
All Rides/Routes start and finish at the Tucson Convention Center and the surrounding area.
The Century (7:00am start)
102 Mile
5K Run/Walk (7:30 am start)
3.1 Mile, certified 5K run/walk
The FUN Rides! (8:00 am start)
3 Mile / 1 Mile
The Metric Century (9:00 am start)
62 Mile/100 Kilometer
The Half Metric Century (10:00 am start)
32 Mile/50 Kilometer
The Casino del Sol Expo & Fiesta will be at the newly renovated Tucson Convention Center and surrounding grounds.  Most of the activities including the live music, food, beer garden and exhibitors will be outdoors!
The longer routes will engage new parts of the majestic Sonoran desert including Davis Monthan Air Force Base, the mountainous and saguaro lined vistas of Old Spanish Trail & historic Colossal Cave. The route will also pass through the communities of Corona de Tucson, Vail, Sahuarita and Green Valley.
Routes close at 4:30 pm.  All route support will end at that time.  Each aid station will close prior to that time according to a schedule that will allow finishes by 4:30pm.
Aid Stations
Aid stations will be approximately every 12 miles.
EBikes - 32 Mile Route ONLY
It's happening! E-bikes at El Tour de Tucson again in 2023
Through the years we have received requests to allow e-bikes to participate in El Tour. In 2021 and 2022, over 100 e-bikes rode with zero issues.  Our event has always been all-inclusive and encourages riders of all ages and abilities to participate. After careful consideration El Tour will allow e-bike cyclists the opportunity to ride in the 2023 event and help raise funds for charity.
Fun Rides!
The Fun Ride is very affordable! $15 per individual cyclist.
Two FUN RIDES TO CHOOSE FROM
START TIME for all distances: 8:00 am on Cushing Street (just south of the Tucson Convention Center)
3-mile course: easy and mostly flat through neighborhoods
1-mile course a very easy, all flat ride out-and-back ! Starting on Cushing Street (just south of the Tucson Convention Center) to Stone, to 18th Street, to Meyer and then back to Cushing Street.
Pulling a non-pedaler (pulled in a trailer or a kid in a seat on the bike)? FREE entry for the child but full registration is needed and the adult pedaler must register and fully pay the entry fee.
If you are signed up to ride in El Tour's late morning events (the 63 mile or the 32 mile) feel free to ride the Fun Ride with you children!
WHAT PEOPLE ARE SAYING
TOUR DE TUCSON is checked off my bucket list!!!! What a great experience and I placed in the top 800!!! It's not about winning it, it's about finishing it!
Tucson is an incredible city and beautiful location for a large cycling event. El Tour brings together cyclists from all over the world and promotes cycling, personal fitness, and community engagement.
El Tour de Tucson 2019! I think this is becoming an annual family tradition. So much fun!
Amazing -We were able to raise community awareness, serve our charity and have our multi-generational family get addicted to a new sport- cycling!!
El Tour is a fantastic experience and celebration of Tucson's cycling community.
Loved the ride. This is the 18th time I've done the ride and hope it comes back next year bigger and better.
@GabbyGiffords and I had a great time riding in El Tour de Tucson. I can't think of a better representation of Tucson than thousands of people coming together outdoors to help raise money for the causes they care about.