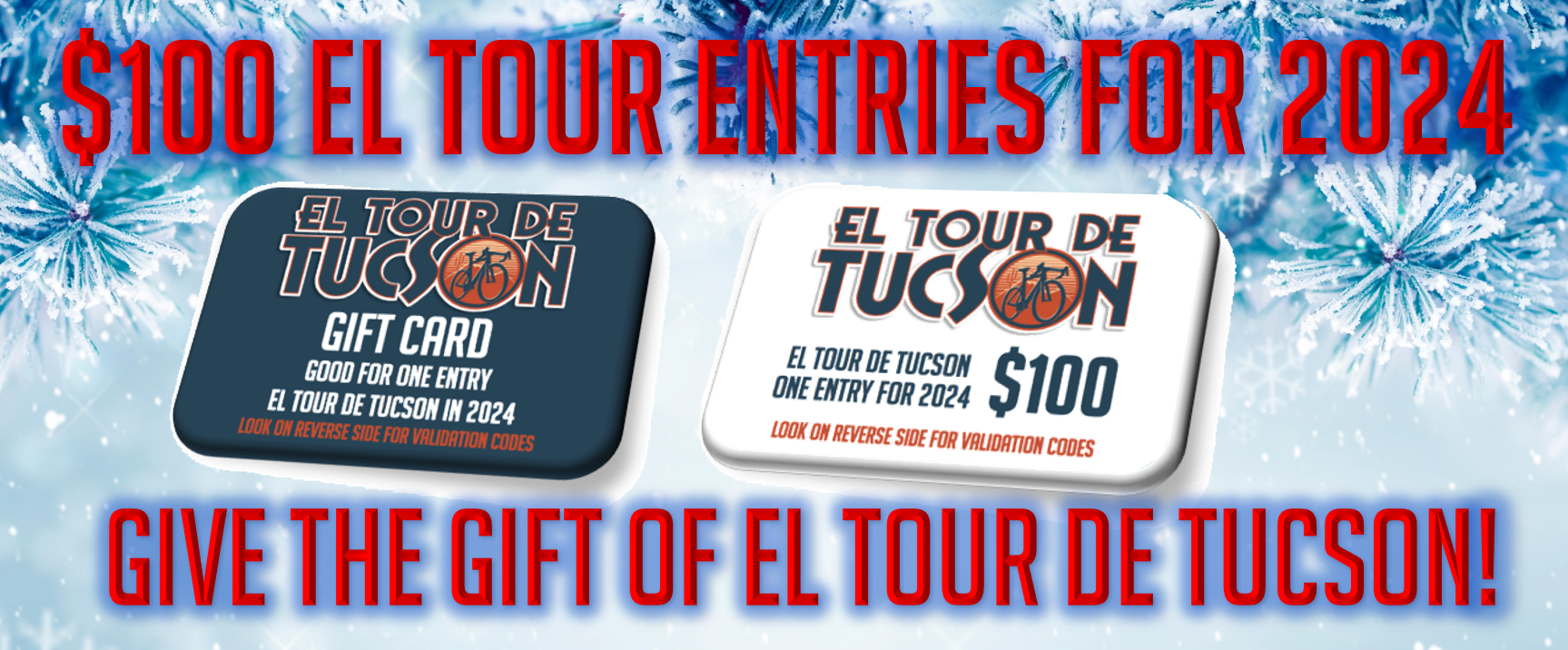 E-BIKES
It's happening! E-bikes at El Tour de Tucson
Through the years, we have received requests to allow e-bikes to participate in El Tour. Our event has always been all-inclusive and encourage riders of all ages and abilities to participate. After careful consideration, El Tour will allow E-bike cyclists the opportunity to ride and help raise funds for charity.
E-Bikes are allowed on the 32 mile route with the following conditions:
Class 1 and Class 2 E-bikes only. These E-bikes have a maximum assisted speed of 20 mph.
E-bikes will only be allowed in the 32 mile event.
E-Bikes will have their own category that starts at the back of the pack of  the 32 mile event
Riders on E-bikes will be timed.
E-bikes excluded from all road bikes awards in "main" event distances.
Under Arizona legislation, ARS 28-819: "An operator of an electric bicycle is granted all the rights and privileges and is subject to all of the duties of a person riding a bicycle".
This is a new experience for all of us so here are some suggested best practices:
The event is not the best time to discover what your bike (or your body) is capable of. We recommend training with your equipment before taking part in El Tour. Get a tune-up at your favorite bike shop before the event.
Battery management: Choose assist modes wisely. Understand and test the range and battery capability before the event.
Bike Patrol is equipped to help with flats and simple repairs on regular bikes. E-bike issues could present problems that are beyond the scope of what can be repaired during the event. Identify a friend that could help transport you and your bike if necessary.
Our ride support (SAG vehicles) may not be able to accommodate your e-bike should you need to be transported to the finish line. Be prepared to have someone on call that can transport your e-bike if necessary.
E-Bike Rentals
Pedego Electric Bikes Tucson & Oro Valley both have ebikes to rent by the day or weekend for the event, which include everything you need (helmet, charger, etc). Both stores are conveniently located right off Tucson's Loop for pick-up, or they can be delivered to your hotel for a nominal fee. Their new 'Avenue' model has drop bars that appeal to road riders. Reservations can be made on their websites or by calling their stores (pedegotucson.com and pedegoov.com).
WHAT PEOPLE ARE SAYING
TOUR DE TUCSON is checked off my bucket list!!!! What a great experience and I placed in the top 800!!! It's not about winning it, it's about finishing it!
Tucson is an incredible city and beautiful location for a large cycling event. El Tour brings together cyclists from all over the world and promotes cycling, personal fitness, and community engagement.
El Tour de Tucson 2019! I think this is becoming an annual family tradition. So much fun!
Amazing -We were able to raise community awareness, serve our charity and have our multi-generational family get addicted to a new sport- cycling!!
El Tour is a fantastic experience and celebration of Tucson's cycling community.
Loved the ride. This is the 18th time I've done the ride and hope it comes back next year bigger and better.
@GabbyGiffords and I had a great time riding in El Tour de Tucson. I can't think of a better representation of Tucson than thousands of people coming together outdoors to help raise money for the causes they care about.