Chapman Automotive Group joins the 38th El Tour de Tucson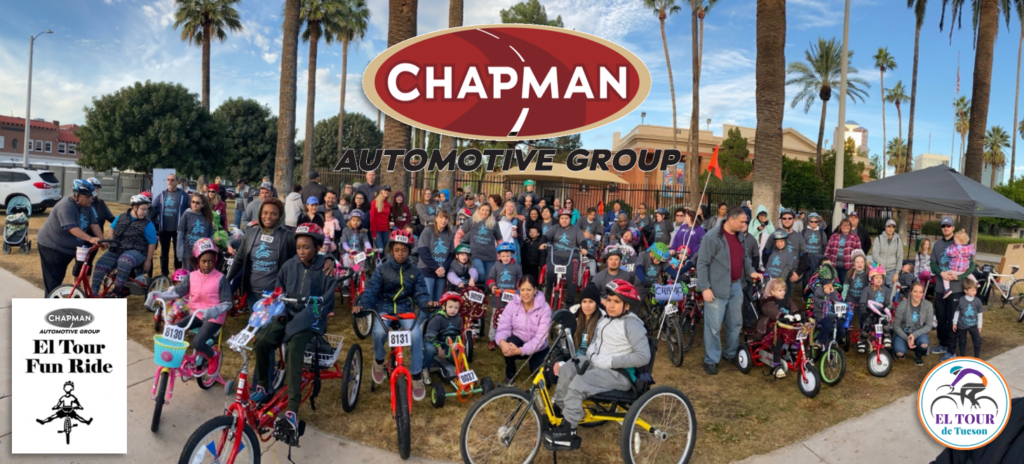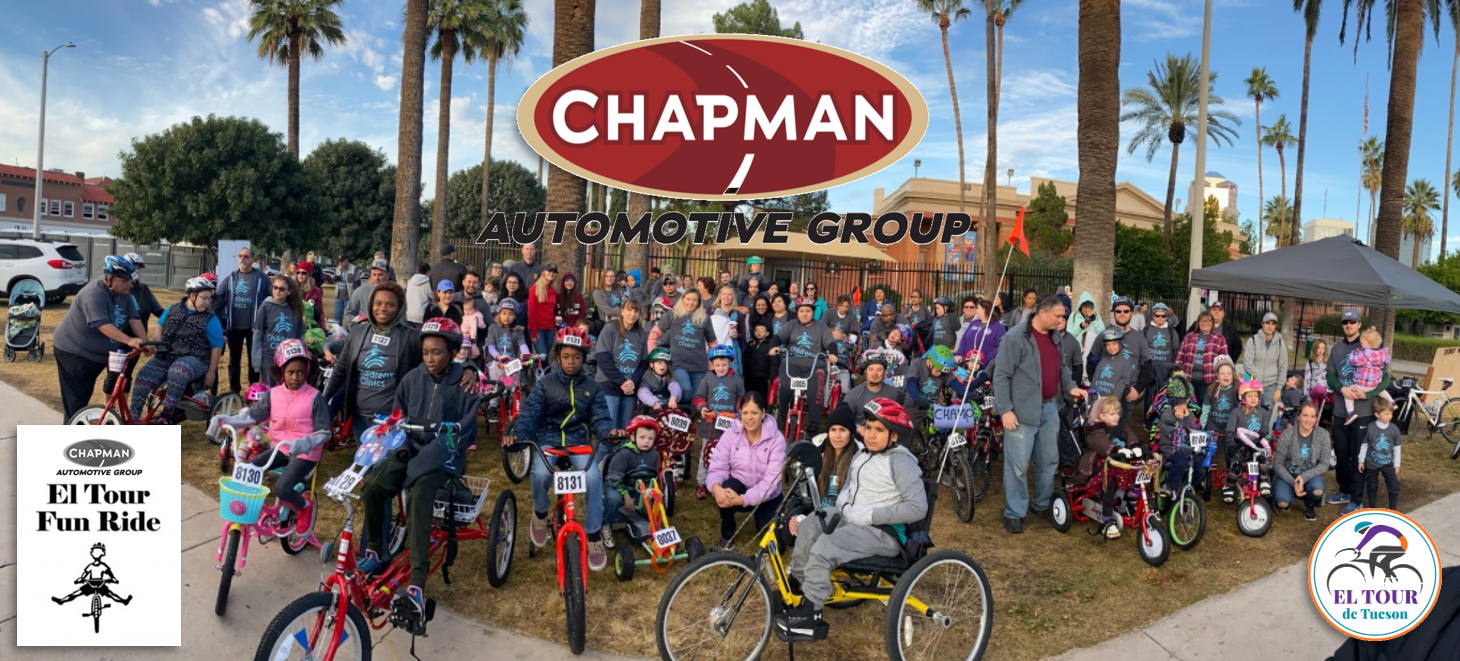 Perimeter Bicycling Association of America, Inc, announced today their partnership with the Chapman Automotive Group. Chapman Automotive Group, a family owned business deeply rooted and committed to delivering the best car ownership experience possible to Arizona residents since 1966, will be the Official Presenting Sponsor for the Fun Ride and will become the First Official Sweep Vehicle for the 38th Annual El Tour de Tucson.  The official 2021 tour name is Banner-University Medicine 38th El Tour de Tucson. The Diamond Children's Medical Center is the primary beneficiary of this year's event.
El Tour de Tucson, Arizona's largest cycling event and one of the 10 largest cycling events in the United States, is produced and directed by Perimeter Bicycling Association of America, Inc. Cyclists of all ages and abilities may ride 100, 57, 28, miles or participate in a Fun Ride of 10, 5, or 1 miles. To register for the ride, please visit: https://www.eltourdetucson.org   The Chapman Automotive Group Fun Ride is open to all who ride road bikes, mountain bikes, BMX, tandems, wheelchairs, handcycles or any human powered bicycle. It is a great family and community event for novices and experienced cyclists to be part of El Tour de Tucson.
For years, the Chapman Cares team have offered a Mercedes-Benz Sprinter van to transport the adaptive bikes at the Children's Clinic for the Fun Ride. The rowdy Chapman crowd stays to cheer and encourage the children and their families to bring in the last rider to keep them motivated.
"We are so proud to be a part of this long-standing Tucson tradition, our partnership with the Children's Clinic and experience volunteering in the fun ride has been extremely rewarding. It is our hope, with our additional sponsorship, to get more families involved to experience the same joy we have been privileged to witness these past few years," said Neb Yonas, Chapman Automotive Executive Vice President–Tucson.

"Chapman Automotive supports our El Tour Fun Ride each year by ensuring transportation for our Adaptive Tricycles to the event for our riders," said Lauren von Osten, Volunteer and Event Coordinator for the Children's Clinics, "their support in this event is invaluable and makes sure our families experience a stress free event. We are incredibly grateful for Chapman Automotive' s continued support for helping us create meaningful, childhood experiences for the children we serve."
The Chapman Automotive Group consists of 24 locations and 18 brands throughout Phoenix, as well as Tucson, Payson and Las Vegas.
"El Tour de Tucson is excited to partner with the Chapman Automotive Group to make a difference in our community.  Chapman and their employees have a long history of giving back to the Tucson community and will continue that outreach through their sponsorship of the first Official Sweep Vehicle and the Chapman Automotive Group Fun Ride," states El Tour de Tucson Executive Director, TJ Juskiewicz.
El Tour de Tucson is a 501(c)(3) nonprofit that produces bicycling events for the community, charity, health and wellness. In 2019, Perimeter reached a significant milestone in being the facilitator for helping charities raise over $100m through its 27 years of charity work.
The 38th Banner – University Medicine El Tour de Tucson will take place, Saturday, April 10, 2021.