Accidental Tourist finds Southern Arizona 'a great cycling community'
Call Jen Murphy the accidental Southern Arizona tourist … and, well, she loved it.
Originally set to take a trip to wine country in Sonoma and Napa Valley last fall, Murphy's trip was cancelled at the last minute due to wild fires.
With few options for a trip to take, Murphy, a freelance travel writer, chose Southern Arizona.
"I had never been to Tucson, but I had heard some amazing things about the national park," said Murphy, who lives in Boulder, Colorado, another big cycling community.
She's heard many big-time cyclists from Boulder train in Tucson, so her curiosity piqued.
"I thought, 'that's interesting," she said in a telephone interview with Tail Winds.
It just so happened she arrived a day before El Tour de Tucson in November "and I was like, 'wow, everyone in this town is here (riding).' I almost jumped into the ride, but I thought that may have been too ambitious."
What she found was what many do when they visit Tucson and Southern Arizona: the beauty of the desert – from Patagonia to Tubac to the Saguaro National monument to the Santa Catalinas.
"Quintessential cactus country," as she called it.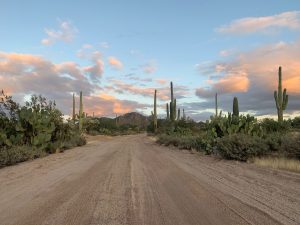 She saw what we see on the daily – Tucson's colors and uniqueness of the winter. Cool days, brisk nights and great cycling rides.
She observed and thought, "it's such a great cycling community. I was blown away by the bike paths. I was impressed with the diversity of riding. You could really challenge yourself with climbs or do a mellow ride."
She and a group of riders – part of a Northern California-based active travel company called Backroads – spent a week cycling in and around Southern Arizona. Her intention of the visit was to write a travel story for the Houston Chronicle. It was published in April.
"It was great," she said of her week in Tucson. "The bikes paths, The Loop was so well-paved, the bike lanes were really impressive."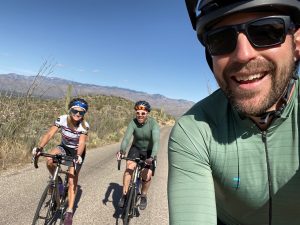 Below is  an excerpt from her Houston Chronicle story. Click on the publication's link for her entire experience in Southern Arizona:
"The region's exceptionally diverse riding, every-changing scenery, fantastic food and rich culture tick all of the boxes for a dream itinerary. And the city of Tucson, flanked on each side by trail-laced Saguaro National Park and home to the Loop, a network of 131 miles of paved bicycle paths, boasts the friendliest bike culture in the Southwest."
Thanks for visiting Jen – hope to see you in November for the 38th El Tour.
Photos courtesy Jen Murphy