El Tour "excited" and "appreciative" as new route goes through Sahuarita
Sahuarita may mean "little saguaro" but it is a big deal to El Tour. We are thankful to the thriving and growing community of Sahuarita for allowing Perimeter Bicycling to ride through their community for the 38th El Tour de Tucson on Nov. 21, 2020.
What a great day it was on that June night when Sahuarita officials approved the new El Tour route that will go in and through their town of about 30,000 citizens.
It was a breath of fresh air and a look at a new route, something that has long been important to Perimeter Bicycling and El Tour.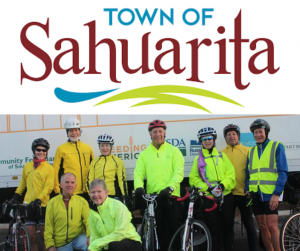 Emphasis on new and fresh.
"We are excited about our new route this year that will allow us the opportunity to spread out the riders a bit more," said Charlene Grabowski, the former CEO of El Tour and current Perimeter Board member. "I am so very appreciative of the Town of Sahuarita for approving the route coming through their beautiful community and on to Green Valley and back. We are closely watching and observing health guidelines and staying nimble in our desire to ride on November 21,2020. Thank you Sahuarita!"
Yes, thank you. Thank you.
Town officials see it as a great opportunity for cyclists and cycling fans to see their fledgling town in cozy Southern Arizona.
Cyclists will experience a first for El Tour given the route has never gone that far south in its 37 previous rides. They've made it possible for cyclists – young and old – to see the great landscape of Southern Arizona. There will be a lot to like on the new route with beautiful pecan orchards and further south the mines of southern Arizona. Don't forget the stunning views as the sun rises.
Officially, the route – one that features 100-mile and 57-mile rides – will include parts of Nogales Highway, Sahuarita Road, Mission Road, Helmet Peak Road, Nogales Highway, Continental Road and Duval Mine Road.
"After the new route was designed, El Tour had pro cyclists ride the 100-mile route and they were excited of the new views, challenge and safe conditions of the route," said Tim Escobedo, El Tour's route director. "As El Tour moves forward safety comes first. Cyclists will truly enjoy the challenges and the picturesque views."