El Tour's Dedication Recipient headed to DC area to Celebrate American Disabilities Act
To say Jessica Cox is all over the map would be an understatement.
But that's Jessica, a go-getter and an inspiration to so many. This summer and beyond, she'll have an impact by land (on a bike) and through the air (in a plane).
It's one of the reasons Perimeter Bicycling and El Tour de Tucson was excited to name Jessica the Dedication Recipient for the 2020 El Tour. Lest we forget, she's an avid cyclist and the world's first licensed armless pilot. She was born without arms due to a birth defect.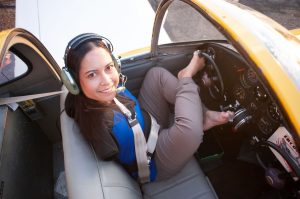 Since being named the Dedication Recipient in the spring, she's been busy attracting cyclists to ride for her foundation – Rightfooted Foundation – for this year's ride.
"I'm so thrilled that for the first time people have the opportunity to ride for my foundation and be a part of empowering people with disabilities," Cox said. "Even the board of the foundation is getting on their bikes!"
Slowly, but surely more and more will join for the Nov. 21 ride. And slowly but surely, she'll be on the bike more – given the hot temperatures have kept her from cycling as much as she'd like. But it isn't like she's not busy either, given she's preparing to have what would seem to be an adventure – or flight – of a lifetime. On July 24 or July 25, she'll be in the Washington, D.C. area to celebrate the 30th anniversary of the passing of the American Disabilities Act and honor retired Iowa Senator Tom Harkin, who helped pass the ADA in 1990.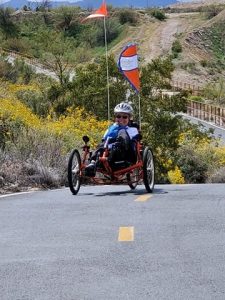 Oh, by the way, Jessica will be flying Sen. Harkin (who is also a pilot) on the plane – Rightfooted's Ercoupe plane – during the ceremony.
"This is all phenomenal," Cox said. "I'm so excited for celebrating this."
She does have a history of being part of the celebration. At the 20th year anniversary, she was there when President Obama honored the ADA.
"I was able to be there 10 years ago when I was a fresh, new pilot," she said. "I was able to get a picture with President Obama and now 10 years later, it's great to fly one of the senators responsible for passing the American Disabilities Act."
She was inspired to hear Obama's "Yes, you can" speech at the White House. Now, she will be part of it later this month.
"Now I'm able to do something special with the airplane for a cause that is special to me," she said.
The ride will be about 25 minutes. And likely will take place in Frederick, Maryland at the airport. The D.C. area has flight restrictions.
"A lot of people are going through a tough time," she said, referring to the current climate of affairs in the United States. "What a beautiful way to celebrate the American Disabilities Act with an airplane ride. An airplane is a symbol of the sky not being the limit. What's inspiring about it is reminding people that the only limitations in their lives are the ones they create."
No obstacle is too big for Jessica. As she was preparing for the flight later this month, she found a crack in the windshield of the plane. Because time was of the essence, she jumped in her car traveled 14 hours to Denver to pick up a windshield for the Ercoup.
"It was my longest road trip solo ever," she said. "I had to get the windshield. Talk about a leg cramp (she joked). We didn't have time to wait freight delivery."
Again, no obstacle is too big for Jessica, El Tour's Dedication Recipient.