El Tour provides special treats to TMC Frontline workers
What's better than an ice cream social in the middle of summer? The sweet treats that come with it, of course.
El Tour was happy to have a social at Tucson Medical Center and for its frontline workers.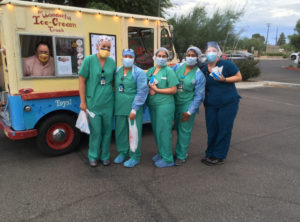 It was El Tour's way to say "thanks" for doing what you do for the community.
TMC has been a longtime partner of El Tour de Tucson. We value TMC's friendship and commitment to the community.
The treats were given with appreciation and compassion to the frontline workers and super employees at TMC. More than 350 pieces of ice cream – plenty of varieties to choose from – went out to the workers as they went in to work or were coming out of work.
"It was rewarding to visit with the frontline workers at Tucson Medical Center and to brighten their day with an ice cream treat," said TJ Juskiewicz, El Tour de Tucson's new Executive Director. "We just wanted to say thanks for all they do."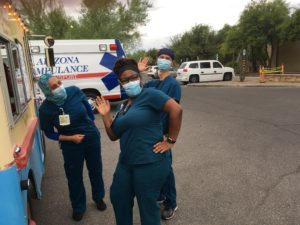 The nurses, doctors and administrators loved the gesture as they left with smiles on their faces. Many took the snacks to their coworkers who couldn't make it out to the vintage ice cream truck.
"Thank you El Tour for coming out and showing our staff at TMC some ice cream love!" said Mary Mellady, Director of Connected Health & Wellness for TMC. "The ice cream truck was such a fun way to hand out sweet treats to the staff. We very much appreciate the ice cream, your recognition of our staff, and what you bring to our community!"
Thanks KVOA Channel 4 for coming to cover the event. Here is the link. 
And, thanks to Craig Nassar of The Practical Chef  for donating the ice cream & cool vintage truck. Everyone loved it!