Fourth El Tour Meetup goes to Great London Flat on Saturday
On Saturday, El Tour de Tucson will have its fourth and final Zwift meetup ride. Be a part of the action as the group rides for 60 minutes on the Great London Flat route.
There could be more in store next month so stay tuned but until then enjoy Saturday's ride.
Morgan Hartford will be riding in his third El Tour Zwift meetup and can't wait.
"They've been great and a lot of fun," said Hartford, who rides for Alzheimer's Association (an El Tour nonprofit).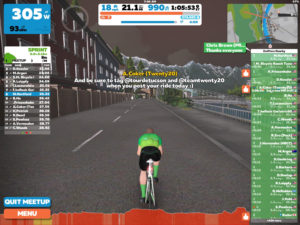 "As the COVID-19 pandemic forced many of us to stay home and physically distance, the El Tour de Tucson Zwift training rides have allowed me to connect with other rides in Tucson and around the world. These Saturday morning rides feature routes from New York, Paris, London to the imaginary world of Watopia. It's been great to see some of the same riders each week and I'm looking forward to seeing them in person as we line up for El Tour de Tucson."
So are we! But until then, we love our Zwifters. And we love Team TWENTY 20 who have helped lead the way the last three rides. They will be back on Saturday. Once again, Amanda Coker (USA) will lead the event while this week's sweeper will be Simone Boilard (CAN).
They've been gracious with their time and fantastic effort on the bike.
"It's been a great experience riding with El Tour de Tucson Zwift participants," said Nicola Cranmer, general manager and founder of TWENTY20 "The meet-up is really gaining momentum and we are expecting record numbers this weekend! The conversation has been fun with many riders reminiscing about past El Tour Rides. El Tour has cultivated a truly loyal and dedicated community."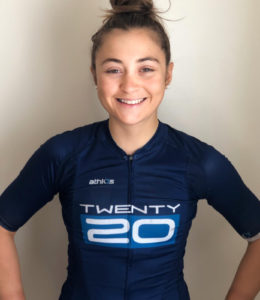 The El Tour Zwift meetups have become so popular that talks are in the works of starting an El Tour group weekly ride sometime next month! Stay tuned!
Here's a look at Saturday's ride with instructions on how to join.
Week 4 El Tour Meetup
Saturday, July 25
6 a.m. Pacific/ 9 a.m. Eastern
Course: Greatest London Flat, London, England
Terrain: Flat to rolling. Course details – https://zwiftinsider.com/greatest-london-flat/
Duration: 60 minutes
For those interested in joining riders from team Twenty20 and El Tour de Tucson riders, here is how to do so:
On a separate device than what you're using to operate the Zwift app, download the Zwift Companion app. From there search for Amanda Coker in the Companion app, select the button that prompts you to follow her, then send Amanda a message that you would like to join the meet up ride. Once Amanda adds you to the meet up ride you will receive a notification in your Companion App to either select that you are Going or Not Going. Once confirmed you are Going, the meet up ride should appear under your events calendar, in the Companion app. On the day of the meet up ride be sure you are already riding on Zwift, typically about 15 minutes before the start. This is to help ensure your connections are working and also to join in on the pre-ride conversations.
Ten to 15 minutes before the ride is to begin, a blue bar saying "Join Meetup" will appear on the bottom left corner of the device you are using to run the main Zwift app. To join, select the button and it will take you to the Meet Up ride. Since the meet up rides are using the Keep Everyone Together feature, you will stay with the group regardless of the wattage you are putting out. To join the conversations during the ride, use the Companion app, which needs to be connected on the same internet connection as your Zwift app. From there you will be riding and talking with all of our El Tour de Tucson friends! Feel free to reach out to Amanda Coker if you have any questions.