El Tour Zwifters are gaining steam; Join in on the fun!
Sixty El Tour de Tucson Zwifters took to the rolling roads of Innsbruck on Saturday. It's the same course cyclists raced on at the 2018 Road World Championships.
Once again, Twenty20 Team members led the way.
Changing scenery from riding around Central Park last weekend, Twenty20 riders Amanda Coker (USA), Shayna Powless (USA) and team founder/GM Nicola Cranmer (GBR) guided riders for 70 minutes on the Innsbruckring route.
"The ride gave a tour of the city with one quick punchy climb and a speedy sprint zone, each time around," said Coker, who led the group. "The excitement from this year's Virtual Tour de France was definitely motivating riders to get personal bests through the sprint zone! There was a lot of confetti flying everywhere today!"
And who doesn't like confetti?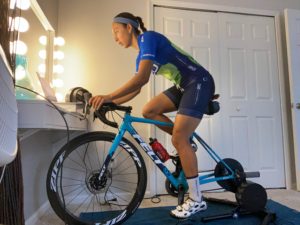 Riders are not only getting physically prepared for this year's El Tour set for Nov. 21, 2020, they're also updating their wardrobe with El Tour gear. The 38th El Tour jerseys and baseball caps are a hit. A few cyclists on Saturday's ride today will be sporting the new gear soon!
Thanks to the fun and positive conversations going on; 70 minutes definitely fly by during these Zwift meet up rides.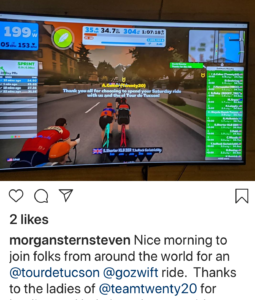 Using the Zwift platform has allowed for El Tour cyclists – from all over the world – to come together and spread the values of community, wellness, health, and charity. El Tour Zwifters are looking forward to the group photo at this year's finish!
Join us next Saturday July 25th, at 9 a.m. EST/6 a.m. Pacific as we ride around London for 60 minutes on the Greatest London Flat route. Follow Amanda Coker on the Zwift Companion App.
Ride on with El Tour!