'Everything is good' with Nelson Vails, an El Tour Dedication Recipient x 2
Nelson Vails sits at his hilltop home office in San Diego and watches people go by on bicycles. Such is the life of Nelson Vails – bicycles here, bicycles there.
Bicycles everywhere? Well, that's what it used to be. But it might be soon. The one-time Silver medalist in the 1984 Olympic Games hasn't been as busy as he had been as a bike ambassador but could soon be with restrictions starting to ease throughout the United States.
By the end of the month, he'll be in Kingwood, Texas for a Community Come Together Event.
He'll host a small recreational ride while there in addition to what the host event is putting on.
"It's something for more people to come together," said Vails, 59.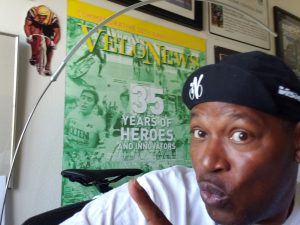 Give him a reason – for a cause – and he'll be on a bike helping.
Much like his cause in 2018 when he was named El Tour de Tucson's Dedication Recipient when his platform was: "Changing Lives One Mile at a Time."
It came from – at the time – a health issue he was experiencing (high blood pressure, overweight).
Now, he's healthier.
"Everything is good," said Vails in a telephone interview from his home. "As long as I continue to ride, I won't die before my time (he chuckles).
"The blood pressure is still good, and the weight is, um, old man weight and I can't seem to shake it."
But life is good for the long-time El Tour de Tucson participant and El Tour de Mesa rider. He was also named the Dedication Recipient in El Tour de Mesa in 2016.
Can you tell he's constantly on the move?
He rides his bike daily and here in San Diego "we can ride daily."
"We practice our social distancing," he said. "But we are waiting, just biding our time until we can go out and do more social stuff."
For the last couple of months many of his engagements have been postponed but not cancelled, hoping that the event will be held at a later date.
"It's a stay tuned kind of thing," he said.
So, has the pandemic slowed him down? It would seem only such a calamity could slow Nelson down.
"It has slowed me down in a sense that I'm just trying stay within the rules," he said. "That's what I'm doing."
Still, he rides about 170 miles a week, staying active as he gets ready to ride in his next event. Stay tuned indeed – he can't wait, and neither can we.