Forbes: Tucson one of top 10 U.S. cities positioned to recover from pandemic
If you have had some reservations about registering for the Banner – University Medicine 38th El Tour de Tucson in November, here's something comforting: Tucson is considered one of the United States' top 10 cities best positioned to recover from the Coronavirus pandemic.
Throughout the last two months, we've continued to move forward preparing for our great ride – set for Nov. 21, 2020 – and are still forging ahead for our scheduled date. You should too. By the way, it's the lowest price to register right now: $130! Come join.
The Forbes article, which came out last week, states an educated U.S. workforce and low population density may be the recipe for success – and Tucson/Southern Arizona exactly fits that.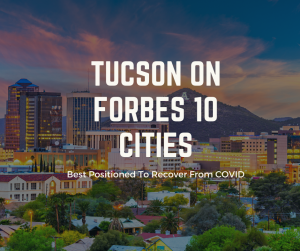 "The most dynamic recoveries may well bypass traditional powerhouses and take place instead in areas that either were or were poised to lead the way in 2020 before everything changed," writes Adam Kamins, senior regional economist at Moody's Analytics and the author of the report.
And college towns were well-represented on the list, where they "could enjoy a surge in growth in the years to come," Kamins added.
Come ride with us! To register, visit: https://eltourdetucson.org/