Forward-thinking PACC, a key El Tour nonprofit, has cute calendars
For more than two years, Friends of Pima Animal Care Center has been a very special nonprofit partner for and with El Tour de Tucson.
The for and with are key words given there is a nice symmetry between the two of us. It's a nonprofit that works hard at what it needs to do in raising money and gets the word out for El Tour.
"El Tour is a chance for us to build relationships with our community, getting folks passionate about pets and cycling in support of Perimeter Bicycling," said Sara Wolfe Vaughn, PACC's Marketing & Development Specialist.
It's important to everyone.
The  Friends of Pima Animal Care Center is the nonprofit partner to the Pima County Animal shelter, granting critically needed resources to Pima Animal Care Centerso it can continue the amazing lifesaving progress it has made in recent years.
PACC always has a great group of riders. To ride for PACC in 2020 visit PACC Team.
Over the last couple of years, they've raised about $38,000 through El Tour. That's a super number for a nonprofit just two years in. It goes a long way in helping PACC help with pets that need surgery or critical care. In total, Wolfe Vaughn said she estimates PACC has helped with about 1,500 pets through El Tour-raised money.
"That'll give them a chance to thrive and get adopted," said Wolfe Vaughn. "It helps with supplies to the foster program and helps with staffers and shelters."
In fact, PACC is one of those forward-thinking nonprofits, one with great ideas. They have one going on right now with their 2020 calendar. And, they are just $5 and have connections to El Tour.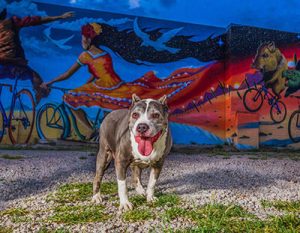 Their cute calendars feature photography by C Eaton Photography and the murals of El Tour feature artist Joe Pagac, and are a one-of-a-kind piece of art celebrating senior dogs at Pima Animal Care Center. All proceeds benefit our Mature Mutts project to get senior dogs the support they need to find loving homes.
Visit this link – Calendars – to get yours now!
"They teamed up and did this wonderful calendar and every dollar raised helps with senior dogs," Wolfe Vaughn said.
We think it's fantastic. Everyone should have one.
To help PACC through pledgereg.com visit here: Help PACC.