Meet Robert "I want to go fast" Spackman
For 75 years – or so – Robert Spackman has ridden a bicycle with and for enjoyment.
His dad, however, wished he had ridden something else.
"He wanted me to ride horses," Spackman said.
Nope, his sister was "more the jockey" than he was, Robert said, so a bicycle it was.
But first he had to learn how to ride one.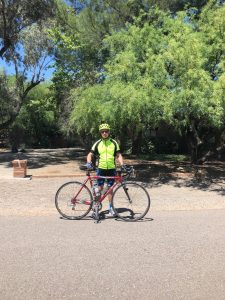 "I started at about 5 years old, but could not balance on small (boys) bikes," said Robert, now 81 years old. "So, the first full size bike I was on was a women's (bike) where I could step thru and ride fast."
To this day he "still rides fast" as he put it. He'll continue to attempt to do that when he rides in the Banner – University Medicine 38th El Tour de Tucson on Nov. 21, 2020.
"I either gotta continue to ride (the way I do) or get a motorcycle," he said, laughing.
So, he rides his bike and – if statistics hold true or consistent to last year's El Tour – Robert will be one of about 25 cyclists over the age of 80 participating in the event.
"That's good," he said.
Truly, El Tour is for all ages and abilities. And Robert is a perfect example of it.
"The last El Tour" he said, "was so and fun and in my book the Most Significant Sporting Event he has done in some time."
We advise him to stay safe but continue to ride – just not too fast as he continues to say he loves to do.
"But, you know what," he said, "I still cannot ride with no hands. I have to be very careful."
When told it is not safe for him to do that, he said, "Yes, but it looks cool."
Hey to us,  any 80-year-old in the El Tour looks really cool!