It was a Good Day in London for a record number of El Tour Zwifters
Talk about riding around and having fun – El Tour Zwifters did it for four weeks of rides.
This past weekend, El Tour de Tucson Zwifters – explored the city – London – by way of the Greatest London Flat course. The last couple of cities were in New York and Innsbruck, Austria.
Team Twenty20 riders Amanda Coker & Simone Boilard and team founder Nicola Cranmer led riders around the heart of the city, through the subway, over the hills in Richmond Park and even rode by Big Ben.
"I always love riding the London course," said Cranmer, an England native.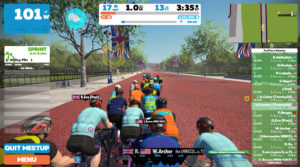 Oh, what a great ride it was. In fact, the fourth meet up ride was the largest group yet as 70 participated. In total, 230 riders cycled in the four meetups.
The El Tour Zwift community has brought strangers from all over the world together, creating a positive and high-spirited group of friends. Each week riders have returned and shared their achievements, goals, El Tour stories, cycling advice and even recipes.
Local Tucson residents that joined the ride talked about the current monsoon season, their recent rides on the same roads of the El Tour routes and their favorite places to eat like Seis and Le Buzz.
Such conversation sparked the idea of a route in Watopia based off the real-life course from El Tour. Chatter of the upcoming Tour – Nov. 21, 2020 – definitely sparked the spirits of those signed up for this year's ride.
"With the conclusion of the four-week El Tour de Tucson Zwift ride meet-up series, I can honestly say that was great fun!" said Cranmer. "It was awesome to engage with the El Tour community and chat about one of my favorite cycling cities!"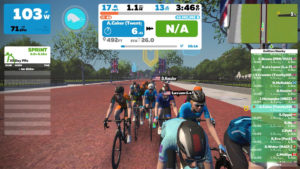 The El Tour de Tucson Zwift rides have definitely been beneficial for all, both physically and socially, a special experience for all during these times.
Thank you to everyone who joined the meet up rides! And special thanks to TWENTY20 cyclists who participated and made the four-ride event a great success. Without your help, guidance, and participation it would not have been possible to make it so seamless.