Lisa and Jim Dobbin: 'No substitute for passionate volunteers'
Jim and Lisa Dobbin love animals. No, they REALLY love animals.
Now that they are in retirement they spend as much time possible volunteering for Friends of PACC, a local nonprofit that supports the Pima Animal Care Center in helping save the lives of pets and helps them find a home.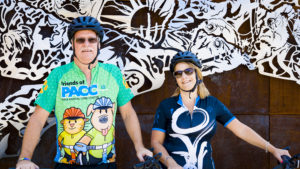 Jim and Lisa are at home with those pets and on a bike, which works perfectly for Friends of PACC as it gets ready to ride another year in El Tour de Tucson. Jim said it's a "win-win" giving their passion for both. This will be their second time cycling in the event as they ride for Friends of PACC.
"We cycled many years ago but hadn't had the free time available to do a lot of cycling in the past 10-15 years," Lisa said. "Now that we are retired and live in such a wonderful bike-friendly city, we bicycle regularly."
So, they ride for Friends of PACC and help raise funds and awareness to the organization. They, in fact, were featured in a PACC video to encourage cyclists to ride the nonprofit. Last year, the Friends of PACC team helped raise more than $25,000.
"We couldn't do what we do without volunteers like Lisa and Jim," said Sara Wolfe Vaughan, Development & Marketing Specialist for Friends of PACC. "There is just no substitute for passionate volunteers who are willing to go the extra mile in service of helping pets at PACC."
The duo has volunteered for PACC for two years and prior to the COVID-19 pandemic (before March 2020) they spent about three times a week helping at the facility, enjoying time with the pets. Social distancing and restrictions to being outside have stunted their time with PACC.
"Animals have brought so much peace, comfort, and joy to my life over the years," Lisa said. "I believe there is a stillness within us when we spend time with animals, which leads to a mutually beneficial therapeutic effect when we take the time to understand each animal and their individual needs.  Pets that come into the shelter environment are often scared, stressed, and in need of extra attention."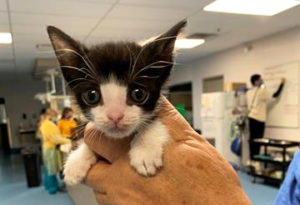 What prompted the two to help out? Their love for animals, of course.
They've been involved in animal rescue for more than 20 years.
"Retirement gave us the time to do it, but we have always had the need to give back to our community and help out where we can," Jim said. "Our love for animals makes this a great fit and PACC has a great volunteer program."
In fact, they researched some local nonprofits to see where they'd best fit in and PACC was/is the place.
"They are a very progressive organization with a unique approach to helping animals in need," she said. "We appreciate their desire to think outside the box and come up with creative and innovative ways to help animals in our community."
And, of course, they do get attached to the animals. How can they not, having given a lot of time, effort and love to those they care for?
"Each animal has a story and I enjoy watching their personalities take shape as they heal emotionally and physically," Lisa said. "The best part is getting to see the animals go home with a new family that will love and care for them, and to know we were some small part of that animal's journey."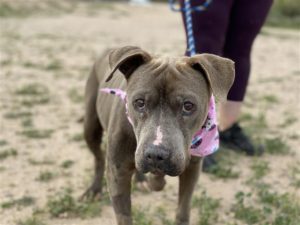 That's why El Tour is a big part of PACC's success. That $25,000 raised means the world to them.
"Their efforts are truly saving lives at Pima Animal Care Center," said Wolfe Vaughan. "With the current crisis, the needs of our neighbors and their pets are evolving faster than ever. Donations are a critical part of ensuring that pets can stay with their families who have been physically and/or financially impacted by COVID, that pets in need of emergency medical care have resources to thrive, and that adoption and foster programming keeps moving pets into loving homes. El Tour de Tucson is an important event for our entire community, and not just on ride day. Even if tires never hit pavement in 2020, the impact of this coming together of compassionate cyclists has the potential to carry so many important causes through this crisis and toward a brighter future."
Recently, KVOA did a story on PACC stating the nonprofit is looking for squeaky toys for the animals.
If you'd like to ride for Friends of PACC in the 38th El Tour de Tucson visit https://www.friendsofpacc.org/ridewiththepacc