Marcia 'Brownie' Roberts is retiring El Tour, her famous brownies and smile will be missed
After numerous glorious years, some things have to come to an end. That's the case for Marcia Roberts and her final stop before the finish line at El Tour.
For nearly four decades, Marcia Roberts and her crew – and others – were there for cyclists. And not just at the final aid station,  but also the Santa Cruz River crossing, 10 miles from the end.
In fact, that's where Marcia Brownie (as we affectionately call her) started her journey with El Tour.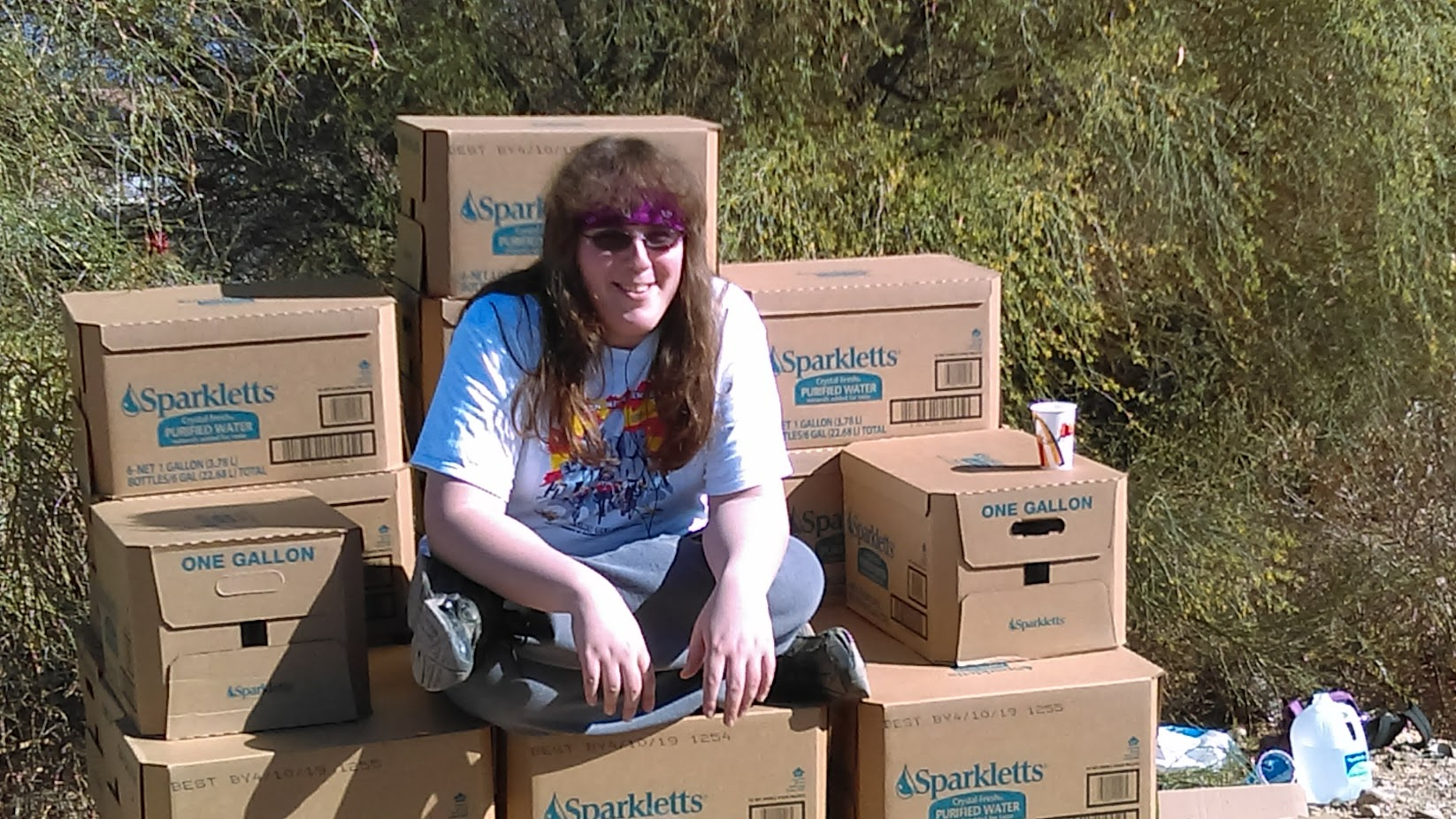 "It was originally a community service project for Sunnyside Sunsets 4-H club, where I was a leader," Marcia said. "Since this time, it's stayed a youth project, no matter when and where we participated. We always allowed even very young participants (as long as they were closely supervised by family members). At the river crossing, our responsibilities were to distribute food and water. Almost immediately the kids began helping riders push their bicycles up the riverbank. The kids loved it, no matter how steep and slippery the slope. Some of the riders loved it – hopefully the kids intersected mostly with those riders."
To everyone El Tour became infectious. And a must-be-at event. It was for Marcia & Co. In fact, her son, Gordon, was born in 1991 around El Tour. He's been part of it ever since.
"There's plenty of cool stories of people stopping," Gordon said. "Whether it was the Leukemia Team in Training stopping and hanging out so they could all cross the finish line together or seeing racers from across the country stop by every year to say hello, and even meeting Gabby Giffords there have been so many.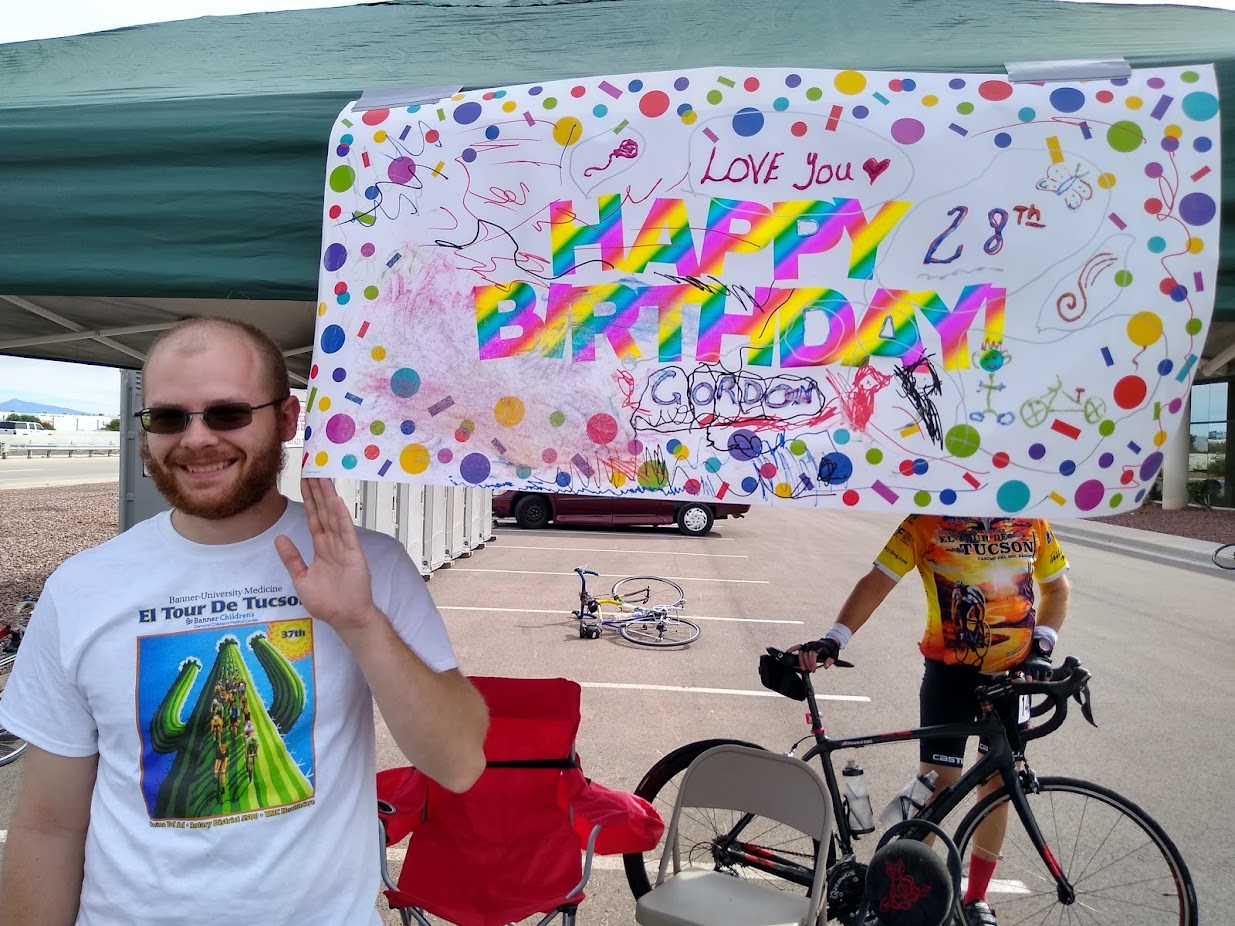 "The baking started in October and by the day of the ride we arrived with tubs filled and dozens of loaves at the ready. They got cracked open a little after noon and never lasted to sunset."
For years and for the yearly event, she made 50 loaves of chocolate chip pumpkin bread, 60 batches of brownies, piles of peanut butter and jelly sandwiches and gallons of lemonade.
"Through rain, heat, sleet, and even snow, the afternoon crowd of riders jammed the site – with an estimated 1,000 riders stopping for service each year," Marcia said. "Most stayed at the site for minutes, some stayed for hours."
It was always the last stop before the finish. They showed up at 6 a.m. and stayed until the last rider went through.
The 4-H club morphed into another community service project through Tucson Police/Arizona National Guard/US Dept of Justice. After 2013, it became the Brownie site (named for the food).
Through it all, they continued to celebrate Gordon's birthday. There he'd wear his new El Tour shirt and socks.
"We have been lucky to always have El Tour-provided shirts, fruit, and water, a SAG site, and a ham radio operator," she said. "A few years back, we received a request to provide brownies for SAG and ham radio operators at other sites. We were happy to oblige."
And what was always constant were "the birthday balloons, posters, and hugs from riders."
Riders from around the world have returned to the side for decades, sometimes without their original teams.
"They joined us for hugs, photos, family updates (ours and theirs), assistance, and of course brownies," she said. "(But) this year it was time to retire. It won't be the same without the weeklong baking and smell of chocolate, the shoehorning supplies into small cars, the set-up and breakdown, and the many friends. El Tour will continue with many years of success to come. Thanks, El Tour for all the fun."
No, thank you for helping make the ride a huge success. Your brownies – and the rest – will be missed.