Tucson Orthopaedic: 'We completely support our community' and is Safety Video Sponsor for El Tour
More than 20 years ago, Scott Evans rode in his first El Tour and despite "not knowing anything about bicycling" he became "hooked."
He was a like a fish to water. Or young boy to his first bike.
Back then, he was 41 years old back then. He's now in his early 60s and loves cycling. And, yes, he loves El Tour. His first one was riding in the the 50-miler. Now he does the entire 102-miles.
"I remember telling my wife when she met me at an aid station (back then), "This is one of the funnest things I have ever done,'" he recalled. "I started doing the whole route shortly thereafter."
He knows the benefits of it, given his history with health and that he's a doctor with Tucson Orthopaedic, one of El Tour's great sponsors. Tucson Ortho will have a booth at the Downtown Expo throughout the three-day Fiesta at Armory Park.
They are the safety video sponsor for the event (more on that later). Through the years, a number of TOI doctors would ride in the event. A few are expected to get back on their bikes after last year's cancellation.
"We are thrilled that it's back this year," said Tucson Ortho's CEO Paula Hecht, who will take this year off and be on the route next year.
Tucson Orthopedic Institute has been a sponsor of El Tour de Tucson for many years.
"We completely support our community; TOI considers itself a great community partner," Hecht said. "Our patients come from all ages, all genders and come from all over."
TOI's mission is: "TO PROVIDE THE RESIDENTS OF OUR COMMUNITIES THE HIGHEST QUALITY, STATE-OF-THE-ART AND COMPREHENSIVE ORTHOPAEDIC CARE."
It's appropriate their hashtag is: #getbackinthegame.
Indeed.
"When there are events like El Tour, it's completely logical to partner with them given that biking is one of the great exercises people can do on different levels," Hecht said. "We love seeing our patients out there getting back in the game."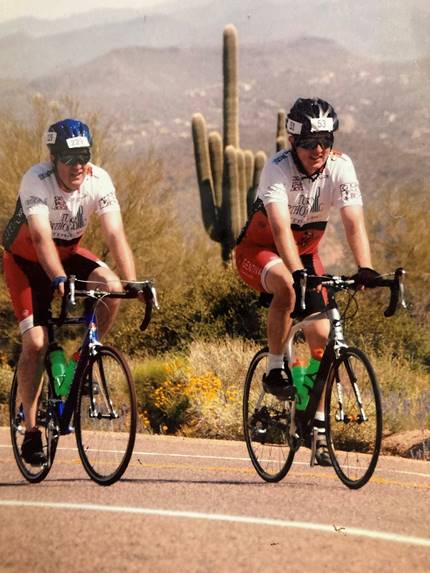 TOI has afterhours care on the day of the event – 9 a.m. to 1 p.m. All the doctors are on call for the weekend, Hecht said.
It's all for the Team TOI effort to make El Tour a safe one, given they are the Safety Video sponsor.
"We're here if you need us … but we don't want you to be," she said. "We don't want to see any injuries. Cycling is a great sport, so preparation goes a long way before you ride. Our goal is to keep everyone healthy and safe. We want to prevent as many injuries as possible. We're providing tips to make the ride enjoyable and safe."
Tour de France champion and famed cyclist Greg LeMond will narrate the video.
Dr. Evans is looking forward to it all.
"I'd train harder and tried riding faster and limiting time at the aid stations in order to see how fast I could finish," he said. "However, my best time was 5 hours, 34 minutes, and while decent for my age, it was never close to the platinum level."
Also remember El Tour is not a race but a ride to help raise money and bring awareness to the nearly 50 non-profits that participate. And to help the more than 6,000 cyclists who participate have a good time and set goals on a bike.
So, that's what he's done now as he's gotten up in age.
"I enjoyed riding hard – in a pack – drafting and doing it faster as a group than I ever could by myself," he said, "but, over time it became more important to me to be with friends and family than to worry about my finishing time. Often, much of my family, including my young children, would do it with me."
Most importantly, he's had fun – something El Tour officials hope to hear from cyclists. It's a great day to be outside on a bike with like-minded cyclists.
"I have always enjoyed the pageantry of the event, the tour expo with all the vendors , the fun of riding with literally thousands of cyclists and all the training that came with preparing for the tour," he said.