Non-profit BCDI part of El Tour: Come and Ride for BCDI and enjoy the 'great experience'
Bleeding & Clotting Disorders Institute is a new non-profit of El Tour de Tucson. It's lone cyclist Dr. Michael Tarantino isn't.
He'll be back for ride No. 17 on Nov. 20 for the Banner – University Medicine 38th El Tour de Tucson. The organization, based in Illinois, is hoping others will jump on and ride for it.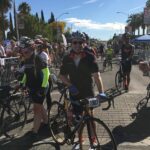 "It's always a great experience," Dr. Tarantino said. "That's why I keep coming back!"
And we love having you as part of an event that helps raise millions for charities from all over the world. So far, we've raised more than $102 million in the past 37 years. We're expecting more than $5 million this year when approximately 7,000 cyclists converge for the big ride.
PDSA is hoping to raise $5,000 for its cause. The mission of the Bleeding & Clotting Disorders Institute (BCDI) is to provide integrated, family-oriented care, treatment and education for persons with bleeding, blood clotting and other blood disorders.
BDCI is an organization near and dear to Dr. Tarantino.
"BDCI is a non-profit organization helping those with rare blood disorders," he said. "We do events like this to raise awareness for them and for more common disorders like DVTs (Deep Vein Thrombosis)."
So, the avid cyclist helps out as much as he can. He's been riding for 30 years, spending some of the time in Tucson while getting his medical training at the University of Arizona in the late 1980s.
"I got to know the perimeter of the city and always enjoyed hiking in the mountain ranges," he said. "The Southwest has held a special place in my heart since then."
As for being a cyclist, "It is a wonderful (and fun) form of fitness that combines aerobic exercise, endurance, and strength."
We couldn't agree more. Welcome back, Dr. Tarantino.
To join Team PDSA visit Bleeding & Clotting Disorders Institute (pledgereg.com)