Ruboyianes 'looking forward to taking El Tour to another level' as El Tour's new Chairwoman
She's a cyclist, a business woman, a community advocate, and now, the new chairwoman of board for Perimeter Bicycling and El Tour.
She's Shawna Ruboyianes, who takes over her new role  as she replaces Pat Lopez this year. She is the first female to be the board chairperson.
"I'm very excited about it," said Ruboyianes. "It'll be an interesting point of view for El Tour."
We welcome her and her insightful input. She's been on the El Tour board for three years.
"I've worked with Shawna for the last couple of years and I've been very impressed," TJ Juskiewicz, Executive Director of El Tour. "She has great business acumen and a passion for cycling."
In her time with El Tour, she was part of the executive committee of the board, spending time with Lopez, "getting the benefit on how he did things. I've seen the history of the organization. He was a great help and has assisted with the natural progression and transition. The executive board takes care of the day-to-day things working with TJ."
She loves cycling, calling herself "a weekend warrior and proud of it."
She's cycled since she was in her teens, she said, but "it wasn't until she was 50" that she entered her first El Tour de Tucson.
That was 2013 the year the rains came and made it tough for cyclists. But, heck, she was hooked.
"I did it then and every year since," she said.
She now goes on cycling vacations "so yes, it's a passion."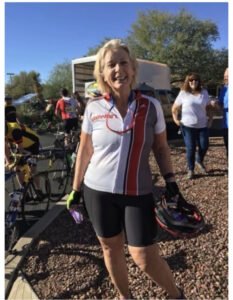 She comes on just as El Tour has been named USA Today's best cycling road event, which is a great accomplishment. She was part of the team that helped gain that honor. El Tour recently had its first women's-only riding event, which was very successful. It also just finished its second El Tour de Zona, which had more than 700 cyclists.
"Perimeter has done some pretty incredible things in the last three years," she said. "We came from a pretty broken organization at a time that things needed to be restructured. We've added into a period where it's successful. We've been able to increase ridership and increase the size of the event. We've brought back existing events and brought in new events so I'm looking to expand on that and to help the board grow to be a little bit more diversified. I'm looking to take this to another level."
She's looking forward to seeing everyone at the start line on Nov. 18, 2023.