Ever see a Javelina on a bike? Now you can on the Loop
Before the pandemic, Jeanne McDonald had a vision of having an impact on the Tucson bicycling scene. It was to be placed along the Chuck Huckelberry Loop and have a bicycling theme.
Then the world – seemingly – stopped. Her vision was placed on hold.
"I had given up on everything," she said.
Then Jannie Cox got involved. Christiana Smith got involved. And renowned artist Joe Pagac stepped in.
And voila' – it's become a reality, and you'll find the javelina on a bicycle sculpture near the Rillito River and Mountain Ave. when you ride/walk/run on the Huckelberry Loop.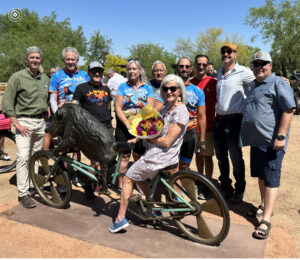 "If we do other sculptures in the future I'd love them to be there," said McDonald, who moved to Tucson from Maine in 2015 to be closer to her son who is a cyclist.
The sculpture is a life-size tandem bicycle with a javelina riding on the front with the back open for people to sit on. It's a perfect place for a picture or two.
"It's all custom designed because the bike had to fit the javelina ergonomically and had to fit a (human)," Pagac said.
Pagac, who has a number of spectacular murals and art pieces around southern Arizona, said it "was cool" doing the project.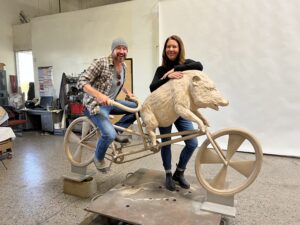 Said McDonald: "We are so lucky to have Joe in Tucson because he is an incredible artist. I spoke with him about his vision for the animal sculptures and he said he had been inspired in his travels and wanted to make sculptures with which  people could interact. This is truly a sculpture that will fulfill that requirement!"
McDonald said she was inspired to commission the sculpture because "I love art and I love Tucson. I think it's perfect. Having it on the Loop and having it be a bike-related thing is important."
After all, she's a "big cyclist" so "it's kind of a way to donate to my friends who I've met in Tucson through cycling. It'll be visible for those cycling, jogging and (exercising) while on the Loop."
She's proud of the sculpture, which was revealed on Saturday.
"The first animal that was chosen for this first project is the goofiest and so much fun and will, hopefully, put a smile on everyone's face," McDonald said. "We are so lucky to have the Loop and hopefully, this artwork will help beautify the city that we love."