Ten Years with HSL Properties helps El Tour with becoming successful
El Tour loves HSL Properties and always has, given they've been great supporters and sponsors of El Tour for many years.
They also had a team riding – and supported one – in the 2022 El Tour.
They're also great hosts for El Tour's VIP area for cyclists who want that special treatment during ride day.
"This is our absolute favorite event of the year," said Lisa Rosenfeld, Vice President of HSL Asset Management. "We love to see how the community comes together. People come from out of town and it just highlights how awesome and wonderful Tucson is, especially with the biking community."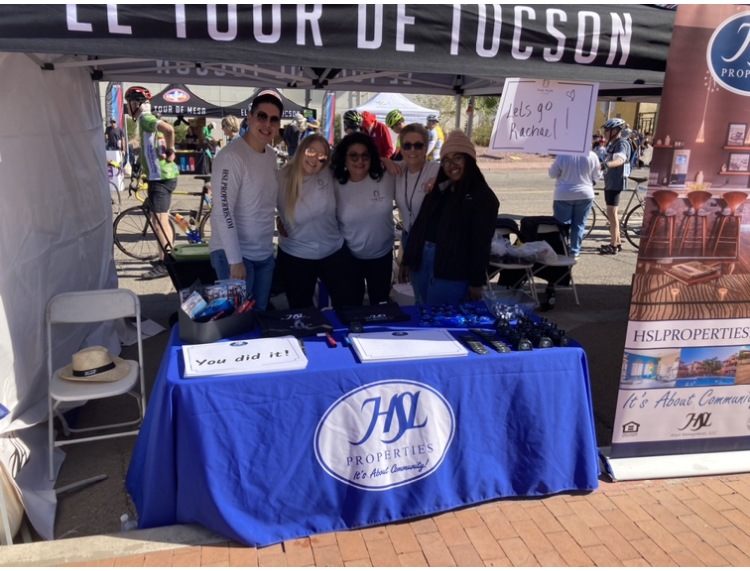 And HSL is all about community given they have their footprint throughout Tucson. They manage numerous properties throughout the city. And they are part of a number of events throughout the year.
"That's what it's all about – community," Rosenfeld said. "We feel strongly that we have responsibility to be part of our community and be in it every day."
This past El Tour – another successful event – was HSL's 10th year as a sponsor. They've seen many changes in El Tour and this past year was great. The weather was ideal as well.
"The new venue is fabulous; the layout is fabulous," she said. "Not that it wasn't great years past, but by far this was the best El Tour de Tucson I've ever been a part of."
Additionally through the years, HSL has picked a charity to raise money for. This year it was the Arizona Multi-Housing Charitable Foundation the HS Lopez Foundation Center of Opportunity.