Water will be plentiful for El Tour thanks to Pain Institute of Southern Arizona, Water Monster
Got water?
We will at the Banner – University Medicine 39th El Tour de Tucson.
Plenty of water when it comes to accommodating the more than 7,500 cyclists that will be on the various courses on Nov. 19. And throughout the three-day event in downtown Tucson.
The Pain Institute of Southern Arizona and H2O Operations, LLC/Water Monster. They've teamed to make sure water will be flowing for the popular ride.
Pain Institute of Southern Arizona is the official water sponsor of the event.
"When the opportunity arose to be a water sponsor for the El Tour Ride, we thought it would be a great way to support this Tucson hosted event," said
John H. Cole, Interim CEO and El Tour Board Member
Pain Institute of Southern Arizona. "It's an honor to be a part of one the premier cycling events in the country. There is tremendous name recognition that is associated with this cycling event.  The Pain Institute of Southern Arizona will have its own team of cyclists participating, so we are not only "talking the talk", but also are "riding the route" as well. We look forward to a safe and successful event."
It's paramount for El Tour, too. That's why Tucson Water and the Water Monster, a Texas-based company, have come in to help. Water Monster does about 250 similar events a year. And has done more than more than 1,000 events through the years.
Water Monster projects to use about 6,200 gallons of water and will be set up throughout the courses, making it easier and an effective way for cyclists to get water if they are low while riding. They'll have a truck that carries 1,100 gallons of water and visit each water station throughout the course to fill up the Water Monster coolers.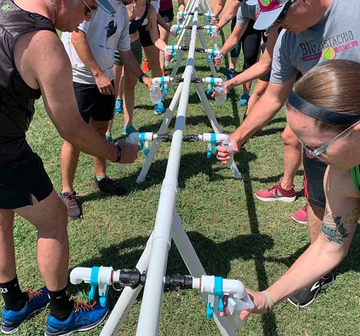 There will be a number of water stations with plenty of water, which will be replenished once the water goes low at that specific location.
"I'm typically pretty generous with the amount of water we leave at each station," said Rick Margiotta, director of operations for H2O Operations, LLC/Water Monster.  "We may have 300 gallons of water at the station, and use only 200. But I'd rather have 100 over than run out."
Exactly. So, we'll have plenty of water for the 2022 El Tour.