We welcome our non-profit partners! El Tour is a charity ride and we have so many looking for riders
It's a new year and so much to look forward to at the Banner – University Medicine 40th El Tour de Tucson. We're going to have so much fun with so many people: cyclists, volunteers, elite cyclists, sponsors and entertainers.
And, of course, our non-profit partners. Remember – this is a ride for charity. It has been since day one and has continued through 39 years and will be bigger and better in year 40. We're shooting for more than 60 nonprofits and with seven months left we already have 38 on board.
We welcome many back and say hello and welcome to the new ones.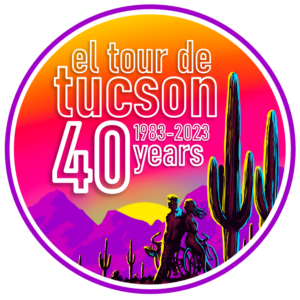 They know the importance of the ride and raising money for their respective causes. It takes a village to get this ride going – so many involved – but the nonprofits are our inspiration with all their efforts and great stories.
If you are going to ride, think about riding for any one of the nonprofits listed.
We want to raise more than $5 million this year. That number has long been realistic and now we have a feeling year 40 is going to crush that number.
Welcome to all the nonprofits that have signed up and to all the ones who will be joining us for our ride on Nov. 18, 2023.
Go to our website to register and visit each and everyone of our nonprofits listed.
Banner Children's at Diamond Children's Medical Center
Southern Arizona Adaptive Sports
Children's Clinics for Rehabilitative Services
El Grupo Youth Cycling
Catalina Council, Boy Scouts of America
Rotary International
Alzheimer's Association Desert Southwest Chapter
National Ovarian Cancer Coalition (NOCC TEAM TEAL)
Courtney's Courage
American Liver Foundation
Jr El Tour
Easterseals Blake Foundation
ALS Association of Arizona
Ronald McDonald House Charities of Southern Arizona
Arizona Multihousing Charitable Foundation
Uphill Into The Wind
Tu Nidito Children and Family Service
Ignite Leaders
United Way of Tucson and Southern Arizona
Homicide Survivors, Inc.
Spiritual Guardians
LOOK! Save A Life
Davis Phinney Foundation for Parkinson's
Big Brothers Big Sisters of Southern Arizona Inc
Children's Tumor Foundation
Casa Maria
Changing Lanes Recovery (CLR)
Hands of Hope
Beads of Courage
The Biodiversity Group
The Drawing Studio
Friends of Pima Animal Care Center
BICAS
JDRF
Pima JTED
We Ride 4
Friends of Aphasia
Tucson Interfaith
GAP Ministries
KXCI Tucson
Ben's Bells
AZ Water Benefitting Water for People
Mother's Against Drunk Drivers
San Miguel High School
Law Matters