Every day is Earth Day for Cyclists
Every day is Earth Day for Ty Fine. It doesn't always have to be April 22 on a wonderful day in Tucson. He's pretty much always on his bike enjoying the Tucson weather. On Wednesday – mid-morning – Fine was finishing up some oranges and snacks after a 30-mile ride that culminated at Children's Memorial Park on the northwest side.
"I'm always on the bike; it beats sitting at home," Fine said. "If not cycling, I'm playing a game called Pickle Ball."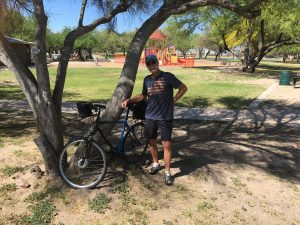 But on the 50th anniversary of Earth Day, Fine and a number of other cyclists sped or strolled their way through the park – just north of The Chuck Huckelberry Loop – enjoying a 65-degree morning that was helped by a cool breeze.
What great weather to be riding?
"Oh, God yes!" said Fine.
For Charlotte Fellenius and Lorin Surpless, Earth Day was like every other day – enjoying the Loop. They ride it two to three times a week and get in more than 20 miles.
"An absolutely great day," said Charlotte Fellenius.
Lorin then jumped int, "You just have to get out early enough to find a parking place."
On Wednesday morning they were halfway through their ride before sitting at Children's Memorial Park.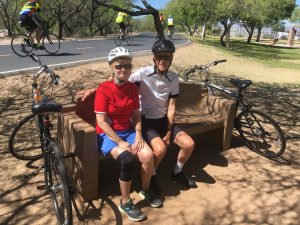 They said they spend a lot of time enjoying the outdoors at Sabino Canyon and go up into Oro Valley.
"I used to go for speed on the bike, but now it's best to go out and enjoy the scenery," Lorin Surpless said. "Nowadays a lot of the guys like to (go fast).'