Early Bird Michael Dunn jumps into El Tour: 'I'm pretty excited about it'
Michael Dunn was so eager to register for the Banner – University Medicine 38th El Tour de Tucson he was in and registered five minutes after it was open.
"I'm pretty excited about it," said Dunn, a Phoenician, who will be riding in El Tour for the third time.
"I want to tell the organizers that I appreciate the pricing (too), it's great."
We appreciate everyone joining early. And, taking advantage of the early-bird special of $130.
In the first day of registration more than 150 cyclists joined in for the ride set for Nov. 21, 2020. In fact, that's seven months from today. We're excited and many cyclists are excited, too, given many signed in just minutes after registration became open.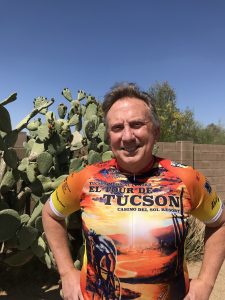 "With all the current events going on (COVID0-19) I'm hoping that down the road it's going on and we're all ready for it," said Dunn, 58. "I'm going to get ready for it. I'm excited to have some kind of event ready to go. I'm grateful to the El Tour. It's a great event. I like that it's going on a southern route."
He said he has lots of friends in Green Valley and Sahuarita; he rides in Madera Canyon when he's down in Tucson.
"It's a good ride," he said.
He's already started to prepare for the 100-mile ride, working indoors and outdoors.
"I'm (itching) to get out (more)," he said. "It's good to get out, especially now that that roads are less busy."
He's a gold cyclist and when told his time for the 100 miles might be faster given there are fewer hills on the new route, he said, "That's what I'm look for (he laughs). I'm always trying to get gold."
Ralph Pulver, too, is a gold cyclist and looks forward El Tour, having ridden it eight times over the last 20 years.
"I've had the good fortune to travel out of Connecticut several times to participate in it," said Pulver, form Farmington, Conn. "Each year that I've done it, I always try to beat my own time. And I've done that. At the age of 60, I'm pretty happy with that."
What he always looks forward to is being in Southern Arizona in addition to the ride. And that it's always good to get out of the Connecticut cold.
"I always look forward to the great vibe, the great weather, the uniqueness of the desert, the Expo and the course," he said. "I have appreciation for the volunteers that put a lot of time and effort that make it so successful."
When told there is a new route and that he might be coming in faster than ever: "Oh really," he said, laughing, "I'll go along with that."
See you in November!