Nelson & Grandson Preparing for "awesome" time in 40th El Tour in November
Cyclist Fred Nelson will be back riding in the Banner – University Medicine 40th El Tour in November. It'll be his 16th or so time.
This time he's riding with his grandson for what he thinks – knows – will be a fun time riding in the 102-mile ride.
"He'll have to nurture me the whole time, I think," Nelson said, half-jokingly.
Half-jokingly in part, because even at 76 years old, he's a pretty good cyclist and has been for more than 20 years. He's ridden in El Tour de Tucson and El Tour for years, and at the platinum level a couple of years, no less. This year, however, he's riding with his soon-to-21-year-old grandson, who is a University of Arizona student.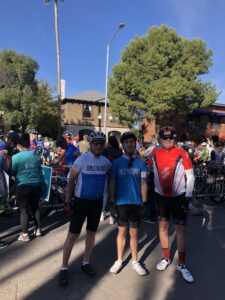 He's a cyclist by heart but as he said, "an aging cyclist, an aging cyclist."
He and his grandson – Leif Nelson-Melby – will ride in the Multiple Sclerosis Ride in the Phoenix area in October and then ride in El Tour.
Nelson started cycling in 2001, shortly after helping with the recovery efforts of the World Trade Center working for FEMA. He's a structural engineer by trade.
"I got a paycheck for my service, so I bought a bike," he said. "(After that year) that was the first time I rode in El Tour." He most recently rode in El Tour two years ago.
And so, more than two decades later he'll be riding with his grandson. They rode in the 62 miler two years ago, but this one is different. Remember that Leif was just two years old when Fred started cycling and riding in El Tour.
"It's going to be amazing," Fred said. "I'll be 76 years old and he'll be 21. Maybe I'll be able to kick his tail a little bit (he laughed)."
No doubt it's a family affair on the bike.