Amanda Coker returns as El Tour's Zwift meetup Ride on Saturday
She's back!
And, who better than Amanda Coker to have back in the saddle for El Tour's second virtual Zwift meetup ride?
El Tour appreciates world-record holder Coker once again leading the event. This time the cyclists will be riding for 70 minutes on the Lady Liberty route in New York. Each time around, cyclists will ride up the reverse KOM then descend on to the rolling loop of Central Park. Once again, the group will use the Keep Everyone Together feature, which will keep the group bunched up no matter a rider's pace. Check out the route details to prepare: https://zwiftinsider.com/route/lady-liberty/
The first was great, given 50 people rode the event and chatted it up with Coker, one of the great cyclists for TWENTY20. Sign up as soon as you can. The rides are limited to 100 people.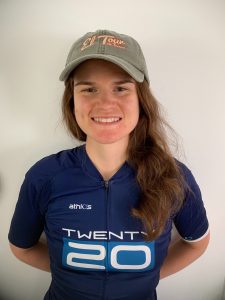 "The conversations with the riders were informative and inclusive for all, there was never a silent moment," Coker said. "It was truly great getting to talk with riders that have participated in previous years rides; it was nice spending the hour learning more about El Tour and the community of Tucson."
And Coker, who will be 28 years old this month, is all about learning and, well, riding a lot. Since March, when the pandemic was widely recognized, she's been riding Zwift every day, with the exception of staggered rest days.
"Amanda has adopted the Zwift platform seamlessly and is an exceptional community ride leader," said Nicola Cranmer, TWENTY20 Team founder and general manager. "While the TWENTY20 program focuses typically on junior development and the more traditional high-performance road racing, her accomplishments in ultra-cycling are extraordinary. We are happy to support Amanda's goals."
Let's also remember Coker holds the world record for miles cycled in 30 days (8,012 miles), a year (86,573.2 miles) and 100,000 miles in 423 days.
Wow – times three!
"The vast variety of workouts and routes on Zwift have definitely helped me improve my fitness," she said. "I'm consistently setting new personal bests. One of my favorite aspects of Zwift is the social platform; it's fun being able to ride and talk with fellow cyclists from all around the world."
She's constantly on the bike, often times with Zwift rides that have 400 cyclists or more.
"When I'm cycling," she said, "I try to have as much fun as possible. I always try to have a few jokes ready to share!"
Well, did you hear the one about the little girl who dreamed of cycling while riding on a bucket seat with her father as he trained for triathlons?
No joke. It was Coker.
"Growing up watching my father train for and race in triathlons sparked an interest for myself wanting to compete in triathlons," she said. "When I turned 15, my parents bought me my first road bike and since then I've been hooked on cycling."
Nearly half her life later she's one of the better cyclists in the world. Again, don't forget those world records.
"My goal from the beginning was to literally ride as many miles as I possibly could every day," she said.
She said she's even surprised herself in getting them.
"Absolutely," she said. "Looking back now at what I did for 423 days straight definitely surprised me; routinely waking up every day at 4 a.m., riding 12-14 hours a day at 20-plus miles per hour, and then going to bed at 10 p.m. It's amazing what the human body is capable of."
But she did it and continues to do great things with "determination, hard work, commitment, and love for the sport of cycling."
Want To Ride With Us In This Weeks Zwift Meetup?
It's easy to sign up with these simple steps:
You must have a smart trainer, rollers with a bike that has a cadence or power tap, peloton, or stationary bike.
Download the Zwift app
Download Zwift Companion App
Once you are logged in follow "Amanda Coker" so she can invite you to the ride.
Please make sure to look for Amanda's invite and accept her invitation.