For Children's Clinics in El Tour, Team is the Theme
For the Children's Clinics and El Tour, it's all about team.
It's through the members that work together to help raise money and the number of cyclists who participate in El Tour.
Team is the theme – through sports.
"We've always had very positive reaction regarding El Tour," said Joseph Luevano, Children's Adaptive Recreation Coordinator. "Many of kids are ones with special needs and aren't or weren't included in things growing up so this is their first experience or only experience in participating in something that is sports related, team related or community related. So many of our kids who return to participate in El Tour is because they don't experience it anywhere else. It's heartwarming."
El Tour is proud – beyond proud and grateful – to have them.
They are currently looking to recruit cyclists to ride in the main event on Nov. 21 and to help raise money for the kids. If you want to help Children's Clinics click here.
Children's Clinics is part of the more than 800 cyclists who ride in our various Fun Rides (10, 5 and 1 mile). Through the years, more than 400 children have ridden for Children's Clinics in El Tour.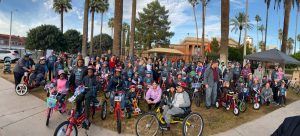 Their sense of accomplishment is immeasurable.
"That medal they receive at El Tour is very personable, inspirational," he said. "I don't know how much it costs but to them it's almost like a gold medal. You can't put a value on it. They cherish it. They are so prideful in being part of the team."
They know they are part of something big. Again, part of a team. In fact, the Children's
Clinics team, since 2016 when it first joined El Tour, has raised close to $50,000.
"That's great because it's a big fundraiser for us, but it's all about getting our kids participating," he said. "El Tour gives the kids a chance to participate and be part of the community. So many aren't allowed to participate in many of the activities like rec league sports. They can participate in El Tour because they have a bike, an adaptive bike and customized. They are just kids wanting to be kids and play with their peers. At El Tour, they are part of the team looking to have fun with teammates and family."
Since 2016, when the program started for the youth, Children's Clinics has raised more than $400,000 through various sources.
It's helped provide more than 350 tricycles to children with special needs because of it with 60 still on the waiting list.
Luevano started the program – Adaptive Recreation – centered on bicycles then added other sports to the program. Now they have adaptive soccer, swimming, tennis, basketball, dance and fitness. More than 200 athletes have been in the program since 2017.
The Children's Clinics is the medical home for children with special healthcare needs in Southern Arizona. It handles more than 5,500 medical visits per year.