Ariana: Living out a dream in El Tour
Dreams do really come true at El Tour de Tucson.
They did for Ariana, who was the youngest cyclist in the 102-mile ride. Actually, Ariana has had a few dreams come true in a couple of Perimeter Bicycling events. A couple of years ago, Ariana rode in the El Tour de Mesa and "met her hero" in Denise Mueller-Korenek, the fastest person on a bicycle.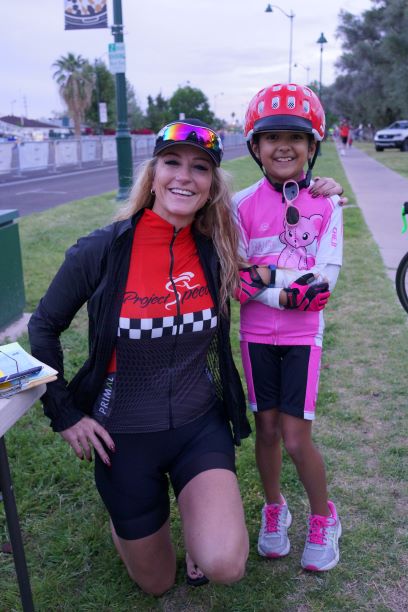 "Her meeting with Denise and the words of wisdom imparted by Denise made her day," her mom, Nan said. "She was awarded the Conquistador trophy at the finish line by Denise for being the youngest female finisher of the metric century tour."
Denise told Ariana in Mesa to follow her dreams and never give up.
Fast forward – really fast, indeed – to El Tour and there she was completing the 100-mile ride. She rode with her dad and completed the 102-mile ride in eight hours, 56 minutes.
"My parents stood by me through my journey," Ariana said. "They taught me to focus on the target. They said if I put my heart and mind to it, I could achieve my dreams. Thank you, El Tour de Tucson, for giving me the opportunity to achieve my dream. This is for every girl and every woman out there: 'You Can Do It. Never Give Up.'"
Ariana was 6 years old when she saw cyclists in their neighborhood and decided she was going to ride in a bike tour.
"While we all rode our bikes for fun, neither one of us had participated in a bike tour before," her mom said. "She started training with her dad and a few months later participated in her first 50-mile 2018 El Tour de Tucson at the age of 7. She was awarded the Conquistador trophy for being the youngest female finisher in the 50-mile event."
She did it again in 2019, again the youngest in the event.
Riding in El Tour de Tucson has become a tradition for our family. The daddy-daughter team looks forward to riding in el Tour de Tucson next year.