Bob Beane: El Tour "was my Tour de France"
This all started with a simple note on Facebook when Bob Beane posted a short but cool note to say how El Tour de Tucson was essential to him getting healthy, happy and on a bike consistently.
The note came this week. Yet, his love for cycling started back in the 1980s in year No. 3 of El Tour.
It's been a 34-year-love affair.
"That was my Tour de France," Beane, 65, said in a telephone interview. "I always looked forward to it."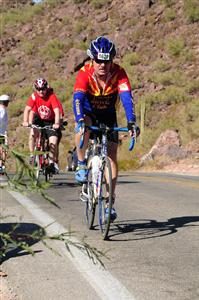 Here's how it all started.
Back in the 1980s, he had become ill and "flat-lined" but made it through surgery. He had become so ill his weight fell to 117 pounds, down from 150. He had severe ulcerative colitis. He was released from the hospital at 135 pounds.
He looked for a way to get back into sports, hoping to become more fit and build muscle. He tried soccer but was put at goalie so that didn't work. He tried softball but he pulled muscles the first day or so.
But he had a neighbor who was a bicyclist and saw the benefits. And, well, from there the magic started. He took up the sport, riding four miles a night on a mountain bike. A year later, he was riding a road bike and things took off … literally.
"Eventually, it got the point where I could ride with the local club," said Beane, who lives in Phoenix.
Then the club members started talking about a ride down in Tucson called El Tour de Tucson. He registered for the 75-mile while in his mid-30s.
"It took me six and a half hours the first time and two years later it took me four hours and 59 minutes," he said. "I kept using El Tour as my goal. In how I measured my progress … by the time I was in my mid-40s I was able to do the 100-plus miles in six hours."
He was convinced that through bicycling it "was the best sport/activity I could have pursued to rebuild my body after that disease."
El Tour was a big part of it. He'll be back again this year either as a cyclist or as a volunteer. He's ridden in El Tour 17 times through the years.
"El Tour is a great thing for health and a great thing to have as a goal," said Beane. "It helps you measure your progress from year to year. The spirit of the event overall is great."