Catch Kwiver at the El Tour Expo; get your bike washed after the Big Event
Mike Russell can't wait to make his debut at the Banner – University Medicine 38th El Tour de Tucson. Cyclists should be excited he'll be here, too.
It's a great chance to get your bike – often neglected – washed in tuned while he's here with his company Kwiver.
El Tour is excited to have him given there will be more than 6,000 cyclists – maybe more – for the El Tour Expo beginning Nov. 18 and ending after the ride on Nov. 20 at Downtown Armory Park.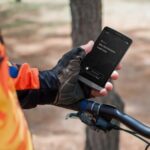 On Thursday, Russel & Co., "will be chatting with riders at the expo about bike maintenance, the Kwiver app, and our favorite wash/lube products for bike care," Russell said. "On Saturday, we'll be offering complimentary bike washes post-event."
Who washes their bikes? Everyone should and here's a great chance to do it. Russel said they will provide washes for event participants. Just download the app and "swing by to get a wash while you enjoy the expo."
Russell has been to six events this year, from road racing to gravel riding to triathlons, "helping cyclists with maintenance questions and having more fun on their bikes."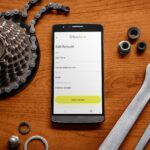 For those not in the bike loop, Kwiver is a new app to help maintain your bicycle. Or better: Kwiver is the "check engine light" for your bike, helping cyclists stay up to date with maintenance on their beloved bike.
Kwiver helps cyclists not think about maintenance and not deal with broken parts or downtime from off the bike run up huge repair bills. It alerts you.
"I saw a struggle from the rider's perspective to remember routine maintenance and a way for the shops to remind them; it became an opportunity for us," said Russell in a recent interview. He is the founder and creator of Kwiver and who is a longtime cyclist with a background in technology. He knows cyclists because he is one.
Cyclists can go to the Kwiver app on their handheld device and download it for both Apple or Android devices. Notifications are triggered when to get the bike serviced and other maintenance items like chain lube, sealant replacement, or di2/etap charging.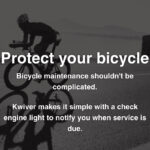 Kwiver is powered by Strava providing the mileage ridden on the bike which will determine when the bike needs servicing.
"Bike maintenance is the easiest to neglect because there's never been a great way to track it," he said. "Unlike cars that tell you when to head in for service, most riders wait for things to break.  Kwiver takes the guesswork out of it so you can enjoy riding, keep your nice bike in great condition, and spend less on replacement parts and extending the life of your bike with simple maintenance."
And that's very important in today's world.
"With global supply chain issues and part shortages throughout the cycling industry, keeping your bike tuned up and working will be even more important over the coming years," Russell said. "Kwiver gives you the ability to extend the life of those parts and be less reliant on replacement parts, simplifying your maintenance schedule and helping riders spend more time on the roads or trails instead."
Go see Mike at the Expo. After all, he can't wait to get here.