Compass High School will be volunteering at El Tour de Zona; go say hello
Amy Orchard is looking forward to being part of El Tour again. This weekend will make that happen when the Benson Hospital El Tour de Zona rolls into Sierra Vista for three days.
Orchard, a one-time board member for Perimeter Bicycling, will be volunteering with a group of youngsters at station No.3.
"I actually wish I was riding in it," she said, laughing.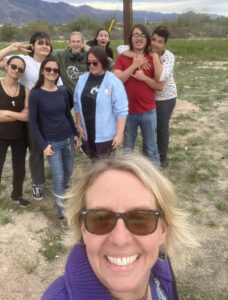 It's a three-day event with more than 750 cyclist riding in and around the Sierra Vista area, going to Bisbee one day and Tombstone the next after spending Friday in Sierra Vista.
You'll catch Orchard and her group at Mule Mountain on Saturday. There will be a group of 15 people, 13 of which are students putting in their volunteer work.
They are part of Compass High School, which take field trips throughout the year. This is one of their "community service projects" which helps organizations get through events. The students will be going to New Orleans next month and then to Japan later in the year. They pay for the trips through volunteer work like El Tour de Zona.
They'll have bananas, oranges, drinks and other items at the aid station.
And, of course, "I've got some cowbells so we'll be cheering the riders on," Orchard said.