Could you see more cyclists out and about after COVID-19 Pandemic? Looks like it
By Steve Rivera
Typically, I ask cyclists or outdoor types to write the blog for Tuesday's tips or personal observations. Over the weekend, I decided to do my own unscientific investigation.
What I found was refreshing: cyclists are out and many are wearing masks.
I walked along The Chuck Huckelberry Loop for about four miles – give or take an hour (yes, I walk slow) but in my mind it was observation purposes.
What I saw was more cyclists than walkers – and plenty of them. But it coincides with a recent Trek Bicycle story that came out last week about social distancing and consumers turning to cycling as an alternative means to essential transportation and physical health, and a way to keep kids busy.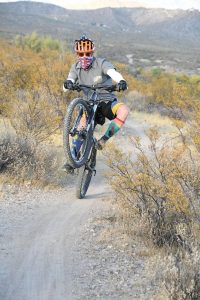 In the Trek results (1,000 adults, 18 and over) it explored how the COVID-19 pandemic has shifted cycling behaviors. It revealed bike riding is perceived as a "safer" activity and mode of transportation compared to public transit, and more people are biking than before.
Here are a few quick – and enlightening – observations:
Americans who own a bike, 21% of them have been riding more since the pandemic. This can be traced back to a need for less public and crowded forms of transportation, a need for exercise, or just a plain old desire to have a bit of fun while adhering to social distancing in an otherwise stressful time.
And, cycling's popularity is likely to prevail, with 50% of Americans planning to ride their bike more once the COVID-19 pandemic is over.
85% of Americans perceive cycling as a safer mode of transportation compared to public transportation while social distancing
If Americans must travel within 5 miles during COVID-19, 90% included biking in their top 3 primary modes of transportation
14% of Americans bike ride to replace public transportation
Nearly 2/3 of Americans (63%) feel bike riding helps to relieve stress/anxiety during the COVID-19 pandemic
Nearly 1/3 (27%) of Americans who own a bike turn to bike riding for mental health and/or to destress
41% of Americans feel exercise and fitness are the most important motivation to ride their bike during the COVID-19 pandemic
Over 1/3 (38%) of Americans who own a bike use cycling as their source of exercise
For more on the Trek Bicycle survey, visit https://blog.trekbikes.com/en/2020/04/national-study-reveals-u-s-cycling-behaviors-during-coronavirus-pandemic/
Today's Blog was written by Steve Rivera, Editor of Tail Winds and Media Representative for El Tour de Tucson. He's written hundreds of stories on cyclists from throughout the world, getting to tell their stories on a bike. This story was written in part with information from Trek Bicycle and its survey with Engine Insights.