El Tour has long been about Diversity and Inclusion
One of the many things El Tour de Tucson has done through the years is include a high-quality and diverse group of cyclists. Diversity continues to be a top priority.
For El Tour, it is all about inclusion and will always be. National publications have taken note.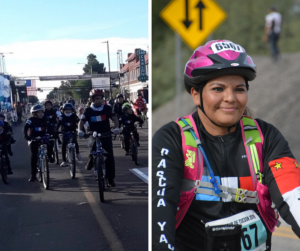 This from Bicycling.com:
"If we look at events where there is more tribal representation, such as El Tour de Tucson where over 250 Pascua Yaqui and Tohono O'odham community members line up every year, we see a concerted effort on the part of (ride) organizer and tribal communities to work together," author James Stout wrote. "El Tour de Tucson has made efforts to welcome and include local tribes and helped to align event sponsors such as Primal Wear and Pima County with the tribal cycling program in order to provide bikes, kits, and equipment to the Indigenous riders at the event. Of course, the lion's share of this work is still done by tribal members who volunteer their time to help train others, fix bikes, and ride the event.
"Cycling is as much about the actual sport as it is about where it happens, and the cycling community has a responsibility to use this relationship with the land to lift up the voices of the people who have lived on it since long before we raced bikes on it."
To read more about the Native Americans and a ride involving "Kaw Nation" a Native American tribe in Oklahoma click here:
https://www.bicycling.com/news/a32256562/dirty-kanza-name-change-petition-kaw-nation/