El Tour Aid Stations: Lifeblood of El Tour cyclists as they provide nutrition, fun and applause
El Tour is a cool, fun ride – and has been for nearly 40 years – but one of the great things about the ride is the Aid Stations. We have 16 of them (and they will be listed here in the story).
Without the great help of so many people – volunteers and more – the ride wouldn't be as enjoyable. So many people are out there ready to cheer the riders on, in addition to providing goodies for their ride.
"I was excited to hear of the opportunity to help out with El Tour de Tucson and give our people a chance to facilitate an Aid station," said Floyd Morgan. "My original thought was that this would be a great way to bless and serve our community, but it turned into so much more than that."
We love hearing that because great relationships have been built and continued through the years.
"This event has really been a blessing for us over the last three years as we have worked with wonderful El Tour staff members and had the chance to grow closer together as a ministry team," he said. "Over the years, we have also eagerly gravitated to the many extra things besides being an encouragement, as we have worked on bicycles, aired up tires and patched up wounds. This has been an all-around great experience, thanks for the opportunity!"
Floyd has been there for just three years and has had a huge impact. Grant Tobias' group has been there since 1988. He's with Troop 739.
"When we started, we would fill bags for the participants and help at various aid stations," said Grant Tobias. "Since then, we have continued to run at least one aid station every year El Tour de Tucson has had a bike tour.
"In 2004, after the passing of one of our Scoutmasters, we named our aid station the – 'Mr. Marty Aid Station.' Mr. Marty loved working with the Tour leadership, getting our scouts setup to run our aid station, and cheer on riders as they came by. our aid station. Our station provides first-class service to the riders by members of our Boy Troop, Girl Troop, Webelos Pack and parents."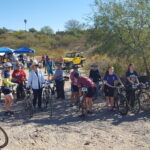 Troop 739 provides snacks of all types, shade structures, first aid support, a location for repairing bikes, chairs for taking a break, and exited youth to cheer on the riders.
"When you arrive at our aid station, our scouts will hold your bike while you run to the restroom, grab snacks, or get water. In most cases our Scouts will be walking about with water and snacks. So, if you are in a rush, you can pull in, get what you need, and keep on riding. We look forward to seeing you on November 20th."
It's just days away. There you'll see the Greater Faith Word Church International, located at Station #1. It serves fresh fruit, veggies, and water.
"This is our first year as an aid station with El Tour de Tucson!" said Ronnie Perkins. "We are attending as an aid station to serve our community as good Samaritans who believe in innovation, expansion, functionality, and community service for the great city of Tucson.
We appreciate every single Aid Station – and so do our great cyclists.
Here is the list of all the Aid Stations and their locations:
| | | |
| --- | --- | --- |
| 1 | Escalante & Kolb | Church |
| 2 (A) | Irvington & Harrison | Pueblo Optimist |
| 2 (B) | Old Vail & Rita Rd | Machinist Local 933 |
| 3 | Old Spanish Trail & Escalante | Natural Grocers |
| 4 | Pistol Hill & Camino Loma Alta | Natural Grocers |
| 5 | Houghton & I-10 Frontage Rd | Christ Community Church |
| 6 | Sahuarita & Langley | BSA Troop 739 |
| 7 | Pecan Festival Grounds | Tucson Rotary |
| 8 | Quail Creek Memorial Park | Sahauarita |
| 9 | Mission Rd (Across from prower station) | Green Valley |
| 10 | Helmet Peak Rd & I-19 | Cemex |
| 11 | Nogales Hwy & Lumber St | Girl Scout Troop 9939 |
| 12 | Redeemer Lutheran Church | Rotary Club of Marana |
| 13 | Ironwood Hills & Grant | Body Central |
| 14 (Fun Ride) | Fun ride Aid Station | AAA |
| 15 | Armory Park | ASARCO |