El Tour Road Closures: Prepare for the Ride if you need to get around this weekend
It's a different route for the El Tour. But there still will be road closures for the more than 6,000 cyclists out on Saturday. Closures will also occur Thursday and Friday as they pick up their packets for the big day on Saturday.
Be safe and courteous this weekend.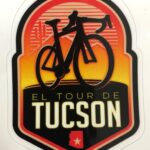 Road Closures:
November 17 at 6 pm 13th Street from 6th Ave to 5th Ave
November 19 at 6 pm 6th Ave from 12th Street to 4th Street
November 19 at 6 pm 12th Street from 5th Ave to 6th Ave
November 20 at 6 am to 11 am Aviation Highway to Golf Links
November 20 at 8 am to 1 pm Houghton from Maryanne Cleveland way to Sahuarita
November 20 at 1:30 pm all riders turn right at Sahuarita and Nogales Highway
November 20 at 8 am to 11 am Fun Ride from 6th Ave, to 18th Street, to Stone Ave.
November 20 at 6 am to 11 am 13th Street from 6th Ave to McCormick