El Tour Bikes for Change and Boys & Girls Clubs of Tucson Partnership to Deliver Thousands of Bikes to Youth in their Neighborhoods
TUCSON – On Serve Our City weekend, November 4 and 5, 2023, El Tour Bikes for Change (BFC), in partnership with Boys & Girls Clubs of Tucson (BGCT), is assembling and distributing thousands of bikes and providing helmets, locks and bike lights to underserved youth aged 7 to 17 (VOLUNTEER/PARTNER/DONATE).
Bikes will be distributed in the neighborhoods of underserved youth at the six BGCT Clubhouses, expanding the 2022 network of Serve Our City and Davis Monthan Air Force Base locations.
"We saw the demand last year to reach more youth and expose them to cycling. Beyond the health and social benefits, we're developing a diverse population for the next generation of El Tour riders," said TJ Juskiewicz, El Tour Executive Director.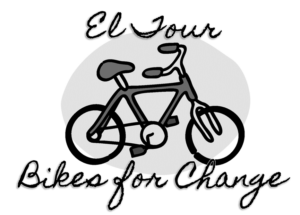 Every youth who receives a bike from the program will also receive a free entry into any distance ride (102 miles, 62, 32 and Fun Ride) in El Tour.
Boys & Girls Clubs of Tucson serves nearly 4,000 members at Clubhouses in the most underserved communities and reaches an additional 10,000 youth, ages 7 to 17. The alignment with BGCT enables El Tour BFC to mirror and expand the population served in 2022, allowing more youth to be served this year and into the future.
"The opportunity to partner with El Tour BFC is an ideal way for us to leverage the existing sports and wellness programming in all of our Clubhouses, including our Pascua Yaqui Reservation location," said Denise Watters, Boys & Girls Clubs of Tucson CEO.
2023 El Tour BFC partners include Jim Click, Canyon Ranch, Tucson Conquistadores, TEP and Pace Ranch. Their funding also includes a skills and safety primer at every distribution site.
Canyon Ranch Managing Director David Craig said, "Canyon Ranch has partnered with El Tour over the last 40 years to support cyclists, and the Boys & Girls Clubs of Tucson and this lets us expand that community and chart a well way of life for thousands of Tucson youth."
As little as $150 can fully equip one youth with $1,500 supporting 10. Here's how you can get involved and volunteer your time or resources. (VOLUNTEER/PARTNER/DONATE).
El Tour de Tucson celebrates its 40th anniversary in 2023 where we are expecting more than 7,500 cyclists for our memorable year.
In its 65th year, Boys & Girls Clubs Tucson has helped keep thousands of local children involved in after school and summer programming. The six Clubhouse locations across the city of Tucson offer daily access to a broad range of programs in five core areas: Character and Leadership Development; Education and Career Development; Health & Life Skills; The Arts; and Sports, Fitness, and Recreation. The organization currently serves youth ages 7-18. From its 2022 data, over 90% of the organization's 3,800 youth members served come from low-income households, 85% belong to traditionally underserved minority ethnicities/races, 72% qualify for free/reduced school lunches, and 45% live in single-parent homes. To find out more about Boys & Girls Clubs of Tucson, visit bgctucson.org or call (520) 573-3533.
Canyon Ranch is a pioneer in wellness guidance with over four decades of experience inspiring guests to pursue a lifetime of wellbeing. Guests can access a selection of over 1,500 services guided by world-class experts who integrate services across a broad range of disciplines – including nutrition, outdoor sports, health and performance, and mental health and spirituality. Canyon Ranch experiences enable personal insight, skills, and motivation that lead to true transformation long after their stay. Canyon Ranch wellness resorts include luxurious spas and nutritious cuisine in awe-inspiring destinations located in Tucson, Arizona; Lenox, Massachusetts; Woodside, California and Las Vegas, Nevada. For more information, visit www.canyonranch.com.
The 40th El Tour de Tucson, Arizona's largest cycling event and one of the largest cycling events in the United States, is produced and directed by Perimeter Bicycling Association of America, Inc. and is scheduled for November 18, 2023. Cyclists of all ages and abilities may ride 102, 62 or 32 miles or a Fun Ride of 3 and 1 miles. The 40th El Tour is projected to raise more than $5 million for nearly 50 non-profit agencies.