Vega on El Tour de Zona: 'I love this ride'
Sometimes good things happen by accident or happenstance. For Fabio Vega, he was looking to ride in this year's El Tour de Tucson but because registration isn't yet open, he found himself registering for the Benson Hospital El Tour de Zona.
He'll use this weekend in Zona to get ready for El Tour in November. There's no better time to start than now.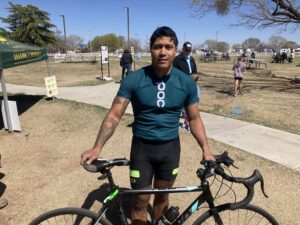 "I love this ride," Vega said, after finishing 35 miles from Sierra Vista to Bisbee and back. "The scenery was really good. But I think the commaraderie was the best part of it."
He met new, like-minded cyclists who just love cycling.
"For one day you're having a (cycling) relationship with them," he said.
He said he met someone here and will go back to Tucson and start riding there.
As far as the ride on Saturday, he said it was a little difficult but "as long as you're keeping a good pace you can draft people. It wasn't bad."
It took him 4 ½ hours to complete the ride but "I took my time."
"I stayed in Bisbee and walked around looking at some shops," he said. "We also went to a (nearby) old town. It was a minor detour off the way."
He'll be back next year, likely to do all three days. He just wanted to do Saturday's ride to "test it."
"I think I'll be back for all three days next year," he said.
He's still a new cyclist, he said, moving from Phoenix to Tucson for a new job.
"I noticed the Loop and it was interesting to me," he said. "One of my friends said I should get a bike. So, I started riding."