El Tour Zwift Meetup: They come from all over, including Canada
Cyclist Connie Phillips has been on El Tour de Tucson's two Zwift meetup rides and "they've been great."
They've been so fun she'll be back for her third on Saturday. This time to ride the course in Innsbruck, Australia.
It's an event El Tour started at the end of June and will continue for the next two Saturdays as cyclists continue to get ready for El Tour de Tucson in November.
More than 100 Zwift cyclists have participated in the two rides with more expected this weekend and next. (See graphic below for details on this weekend's ride).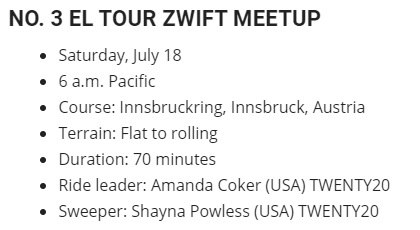 "The meet-ups are a bit different than the type of rides I usually do (but) Zwift has been great overall for the group riding," said Phillips, a cyclist who is participating from Alberta, Canada. "Overall, it's been a great experience.  I love it that the pros are willing to spend the time."
The pros are Amanda Coker, Natalia Franco and Shayna Powless. They are part of Team TWENTY20 that's helped lead the two rides and will continue to help with the next two.
"I had so much fun (on Saturday in ride two) with the El Tour riders," said Franco, who was the sweeper. "It was a great warmup for my race in the afternoon. I hope to ride El Tour in person one day."
To read more about list week's ride visit here.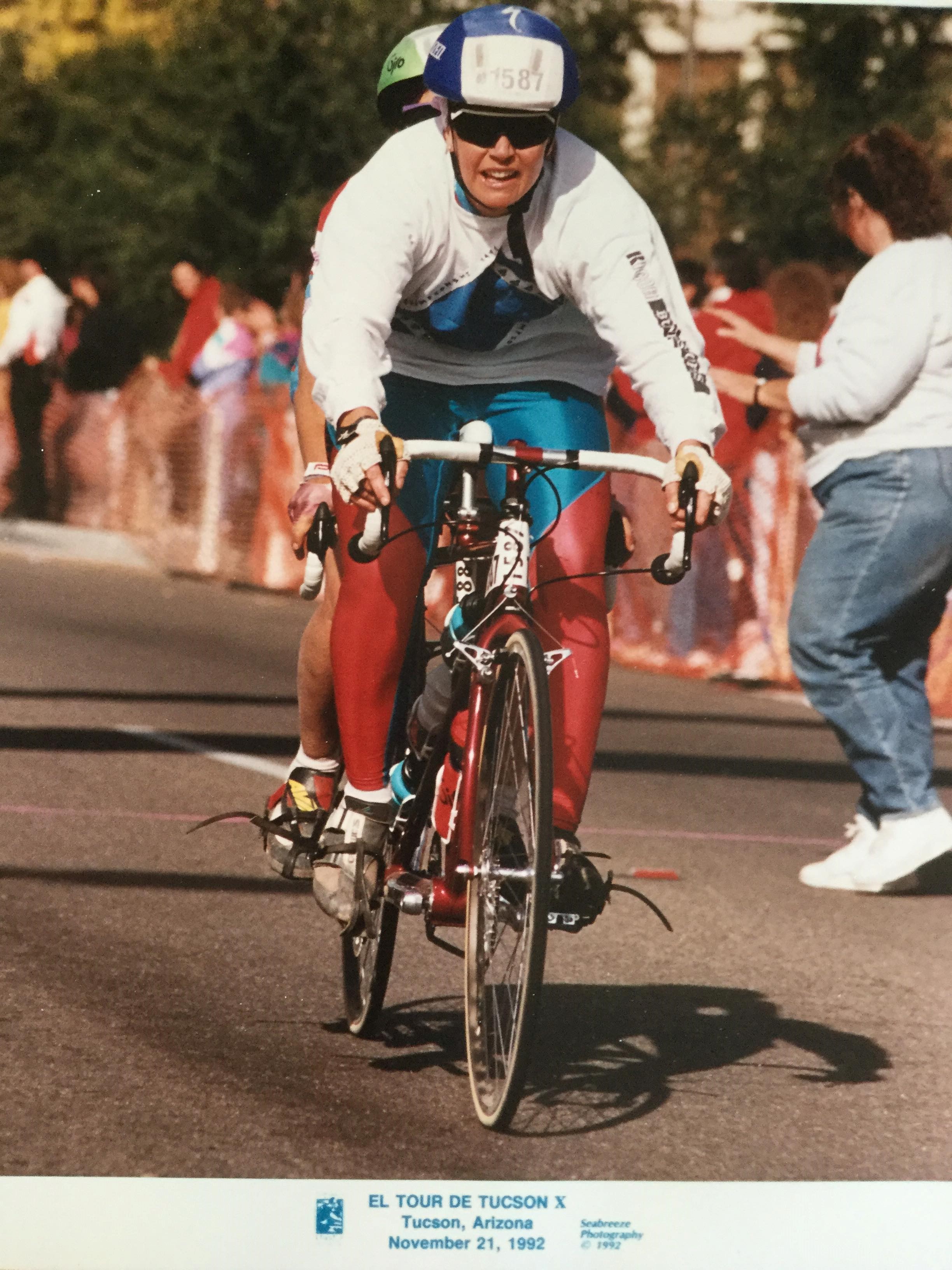 Phillips hopes to return to Tucson at some point, too. The former Tucsonan – "I lived there for seven years. I love Tucson. I spent three weeks there in 2016. Love the bike path. What a treat." –  said she's still hoping to make it to Tucson in November to ring in her 65th birthday, celebrating by riding in El Tour.  She last rode in El Tour in 1992 on a tandem with her sister.
"I'm not sure where the inspiration to do it on a tandem came from, but my sister agreed to do it with me," Phillips said. "She was just returning from a trek through the Himalayas. There was a bike shop in Tucson that lent us a brand-new tandem road bike.  We had a lot fun throughout the ride. There definitely were some challenging parts. But overall, it was a lot of fun, and what a sense of accomplishment crossing the finish line!"
She'd like to experience that again. Until she decides what to do – if borders open up and COVID-19 isn't a problem in November – she will ride Zwift.
"Everyone is adjusting, not being able to see anyone, and dealing overall, with massive change," she said. "Riding then was a great stress relief and over the years, I've met some amazing people riding, gone on some great bike trips and accomplished some big goals. And yes of course it keeps me fit."
Remember, she's 64 and on a Zwift about four times a week.
"I think I am in good shape … always want to be in good enough shape/strong enough so I can continue to have all these options of activities for as long as possible," she said.
For now, she has a good option of getting on Zwift and joining El Tour for the meetups.
"It's the training – I actually enjoy the training more than racing – that keeps me in shape physically and grounded mentally," she said.
Whatever works. And we love having you on the El Tour Zwift meetup rides!
For those interested in joining athletes from Team TWENTY20 and El Tour de Tucson riders, here is how to do so:
On a separate device than what you are using to operate the Zwift app, download the Zwift Companion app. From there, search for Amanda Coker in the Companion app, select the button that prompts you to follow her, and send Amanda a message that you would like to join the meet-up ride. Once Amanda adds you to the meet up ride you will receive a notification in your Companion App to either select you are Going or Not Going. Once confirmed you are Going, the meet-up ride should appear under your events calendar in the Companion app.
On the day of the meet-up ride, be sure you are already riding on Zwift, typically about 15 minutes before the start. This is to help ensure your connections are working and to also join in on the pre-ride conversations. About 10-15 minutes before the ride is to begin, a blue bar saying "Join Meetup" will appear on the bottom left corner of the device you are using to run the main Zwift app. To join, select the button and it will take you to the Meet-Up ride. Since the meet-up rides are using the Keep Everyone Together feature, you will stay with the group regardless of the wattage you are putting out. To join the conversations during the ride, use the Companion app, which needs to be connected on the same internet connection as your Zwift app. From there you will be riding and talking with all of our El Tour de Tucson friends through messages! If you have any questions, please feel free to reach out to Amanda Coker through the