From Canada with Love: 'You cannot believe how excited I am to get down there and ride El Tour'
El Tour de Tucson is known for being an event that attracts cyclists from all over the world.
With the ride just under six months away, we've learned 47 of the 50 states will be represented by one or more cyclists from those states. We also have many from Mexico, Europe and, of course, Canada.
Peter Saunders, 71, is one of those from Canada. Calgary, Alberta to be more precise. On November 20, 2021 he'll be able to relive his joy for riding in El Tour for what he estimates to be the 13th time.
"Every ride is just so much fun," Saunders said in an interview with Tail Winds.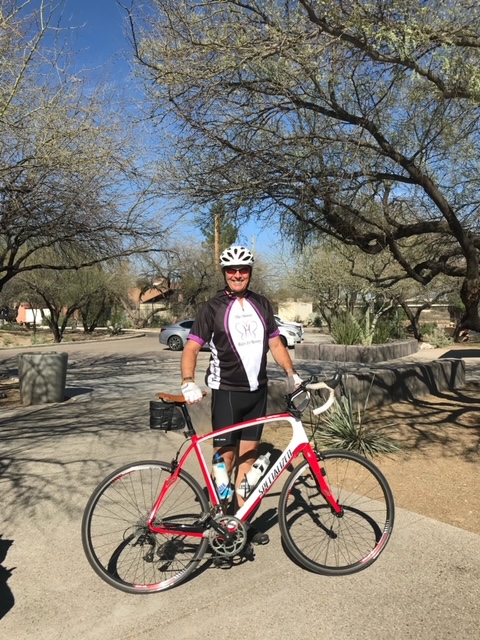 He proceeded to talk about what he loved about the event.
"Going down to pick up the participant's package and engaging with the vendors; getting up early on event day and heading to the start line; pedaling your heart out and talking with other riders; heading into the finish line; picking up your medal; having photos taken and enjoying a cold brew with fellow riders," he said. "It's all about the camaraderie!"
We feel the same way here at El Tour. It's one big global party on the streets of Tucson. And it has been for nearly 40 years. Come November, we will be celebrating the 38th El Tour.
Saunders and his wife, Jean, split time between Calgary and Tucson.
"We left Tucson in mid-March 2020 due to the pandemic and we didn't make it down this past winter," he said. "You cannot believe how excited I am to get down there and ride El Tour."
He'll be riding for The Haven, one of the many El Tour non-profits.
"I had the good fortune to meet Margaret Higgins (executive director of The Haven) at one of my first El Tour's," he said. "We lost touch and then some 10 years later met again by chance at El Tour and discussed my joining the team. Each year I try to enlist a few of my Canadian snowbird friends to join us in riding for 'The Haven' team. It's a small way that we can help to give back to a community that provides us with such a wonderful opportunity every winter."
The love affair with El Tour started about 14 or so years ago when he'd see cyclists go through Tangerine Road. The Saunders' lived in the area and would see cyclists zip by. So, in 2006 after he had retired and after seeing cyclists enjoy themselves and compete in the Triathlon World Championships in Switzerland, he decided to become a cyclist.
"Watching the cyclists in that event and seeing the excellent trails available around Tucson, I decided it would be a great activity to engage in over the winter months and then it expanded to my summers here in Calgary, Alberta," he said.
Now, he's experiencing great joys on a bike.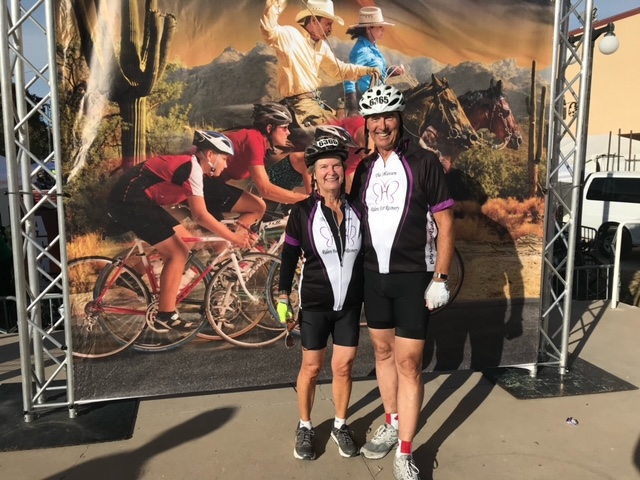 "Number one is hitting the trails at any time of day in Calgary or Tucson and pedaling to my heart's delight," he said. "In Calgary, our home backs onto a section of ´The Great Trail' a paved path system that stretches from coast to coast in Canada and in Tucson I love riding ´The Chuck Huckelberry Loop.' Wherever you are, you meet great people.
"And number two is riding down 6th Avenue in Tucson to the finish line of El Tour de Tucson and hearing people shouting their encouragement. Your adrenaline is flowing and the smiles on participant's faces say it all."
Never mind that cycling keeps him fit but, "what I love about cycling is that it doesn't beat me up like golf does."