Join Amanda Coker for El Tour's 1st Virtual Meetup Ride, Saturday, June 27
Wake up with us at El Tour for a one-hour Zwift ride with Amanda Coker, a world record holder in cycling and lead rider in El Tour's first virtual meetup ride on Saturday, June 27.
We're going to have fun riding the Tick Tock Watopia route beginning at 9 a.m. eastern/6 a.m. pacific. It's open to the first 100 cyclists who join the meetup so join early.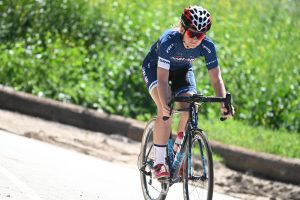 It's easy to sign up with these simple steps:
You must have a smart trainer, rollers with a bike that has a cadence or power tap, peloton, or stationary bike.
Download the Zwift app
Download Zwift Companion App
Once you are logged in follow "Amanda Coker" so she can invite you to the ride
Remember #eltourwakeupride
We're excited to have Amanda as our lead rider as El Tour starts this four-week endeavor.
"I'm excited to be part of this ride as it's the first virtual group ride for El Tour, the iconic ride based in Tucson, Arizona. This ride will be for one hour and set as a non-drop/keep everyone together ride. What that means is that no matter how hard riders work on our group ride they won't be able to pull away, keeping the group together. 
 
During the ride we can chat to each other and discuss what fellow cyclists, elite trainers, and other pro cyclists do for training when they need to stay inside. There is a cap to the ride of 100 people so make sure to follow me asap so I can get you invited to the ride. Let's have some fun! "The length of the program will be four weeks, excluding the July 4 weekend. So the dates are June 27, July 11, July 18 and July 25.Ride on with El Tour as we get ready for our event on Nov. 21, 2020! Be sure to register for the El Tour de Tucson's main event at eltourdetucson.org.