Lots going on at the TCC for the Nova Home Loans El Tour Fiesta & Expo, come see
It's going to be bustling at the Tucson Convention Center Nov. 17-19 for the 39th El Tour de Tucson.
It'll be the three-day Nova Home Loans Fiesta & Expo, culminating with the big ride on Nov. 19.
We're excited and we know more than 7,000 cyclists will be too.
We'll have plenty of fun with bands every day as well as food and vendors.
The TCC area will be packed with cyclists and those who want to people watch and/or enjoy the food. They can visit our Expo where we'll have a number of nonprofits and sponsors.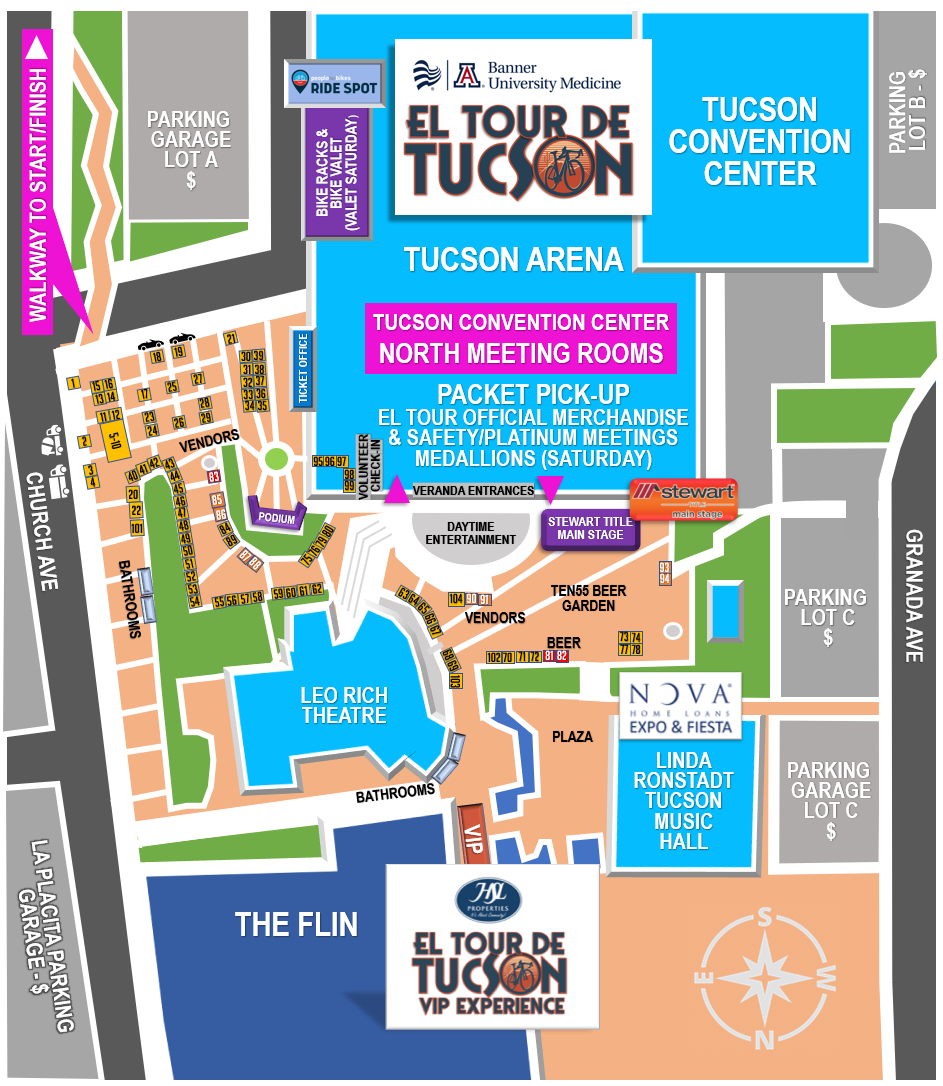 If you need parking we have a map in the link. There will be plenty of parking downtown. We hope to see you there!
Here is a list — ETT_Vendor_Spaces — of those who will be downtown for our three days! Come say hello!
See below
| | | | |
| --- | --- | --- | --- |
| Organization | Location | Location | Organization |
| National Ovarian Cancer Coalition | 42 | 76 | Safe Tech Tucson |
| Natural Grocers | 28 | 32-33 | Save Our Soles |
| NOVA Home Loans | 67 | 23 | Southern Arizona's Attractions |
| Null Winds Technology | 54 | 24 | StetchLab |
| OKO Tire Sealants | 45-46 | 47 | Stretch Zone |
| Omeo | 80 | 18-19 | Subaru |
| Peace Corps | 13 | 89 | Superior Water Tucson |
| Pedego Electric Bikes Tucson & Oro Valley | 27 | 81-83 | Ten-55 |
| Performance Endurance Gear | 29 | 66 | The Bahati Foundation |
| Pima County Attractions & Tourism / The Loop Store | 11 & 12 | 65 | The Biodiversity Group |
| Pinarello US | 3–4 | 95 | Thomas. D. Boyer Liver Institute |
| Pinnacle performance Eyewear | 25 | 40-41 | Tucson Endurance |
| Primal | 71-72 | 14 | Tucson Media Partners/Arizona Daily Star |
| Renewal by Arizona | 38 | 36 | Tucson Orthepedic |
| Rescue Me Wellness | 69 & 103 | 37 | Tucson Roadrunners |
| Tucson Tamale | 48 | 21 | Vantage West Credit Union |
| USA Cycling | 102 | 70 | We Ride 4 |
| Cirrus Visual | (Saturday only) Space will be assigned on Friday | 97 | Water for the people |