Marc Luety – a testament to determination and inspiration
Marc Luety is one of those unbelievable stories … until you tell it.
What Marc definitely is is a feel-good story full of inspiration, determination and motivation.
After all, it was about 19 months ago, he was riding his bike – in preparation for his third El Tour de Tucson – when he was struck by a motorist, leaving him with multiple head fractures, a brain injury and nerve damage to his left side.
Still, just three days after coming out of an induced coma one of the first questions while in the hospital he asked: "where's my bike?"
He wanted back on it.
But the 2018 El Tour was not to be. Recovery, in fact, seven months of it was needed before he would be able to get back on the bike.
Ten months later, he fulfilled his goal of riding in the Banner – University Medicine 37th El Tour de Tucson.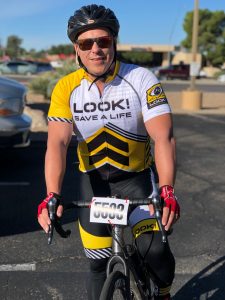 "It was different," said Luety, 39,  when asked how riding in El Tour felt months after the crash. "But it was a great experience. It was a great opportunity. It was the one thing I wanted to do after the crash and there was no way I'd miss the opportunity."
Nothing was going to stop him from taking part. He prepared to get back and ride the 55-mile ride, his usual distance (although he intended to ride the 100-mile event in 2018).
Was there any trepidation riding again in El Tour?
"Not until the day before the ride," he said. "I hadn't really ridden on the road in such a long time."
After all, most of his training had been on The Chuck Huckelberry Loop and on an indoor trainer.
Understandably, he had his issues of being back on the road, riding side by side with other cyclists. But, after riding about halfway through the course, it was – pardon the expression – like riding a bike again. He was comfortable, content.
When he finished, "it felt great, actually."
There was a sense of accomplishment.
"It was me telling myself that I can do it," he said. "That I could make it. I wasn't going to let myself get in the way (of not finishing)."
Of course, there was a time he thought he'd never ride again. In fact, "quite a bit." Then came another blow. Two weeks before El Tour of 2019 – after rebuilding his bike – it was stolen during a restroom break while on the Loop.
At the time, he said he felt it was destiny telling him: "I'm not supposed to ride."
Destiny be damned, he was able to rent a bike – with the help of bike advocates – making desire to ride in El Tour a reality.
"Not many will immediately get back up after getting knocked down," said Brendan Lyons, executive director of LOOK! Save a Life. "Marc Luety personifies the best in all of us through his leadership in the wake of adversity. Not only did Marc get back to doing what he loved after facing near death, but he did so in an effort of raising awareness so that this wouldn't happen to others."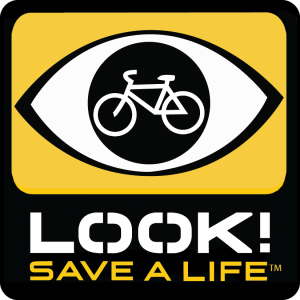 He's now a big advocate for cycling nonprofit LOOK! Save a Life and Lyons, one of the individuals who helped him secure a bike for the 2019 ride. Luety plans on returning for the 38th El Tour.
LOOK! Save a Life's mission is "to foster an environment of safety for all who utilize our public byways. We know that some who ride bicycles may not understand the laws regarding use of public roads. We also recognize that many drivers are unaware of the same rules or laws. Nobody wants to be struck by a vehicle and nobody wants to injure, let alone kill somebody. "SAFETY IS EVERYONE'S RESPONSIBILITY."
Luety believes in that wholeheartedly.
"I had never heard of the organization before my accident," he said. "But it's now dear to my heart. People just need more awareness. Anything I can do to help bring that awareness with people not having to go through the suffering many of us have is a goal of mine. I want to bring that awareness.
"It's not just about cyclists, or motorists. It's about runners, triathletes, everyone. They have to know their surroundings. Everyone needs to be aware."
To ride for LOOK! Save a Life visit:
https://runsignup.com/ridetosavelives?fbclid=IwAR1ImSxDc145QU7C3R10rT0-rD4OZsHO9wgVPQsVc8tyvSLeAVsDmjwHKss