New El Tour non-profit partner: Crafting Kind Kids helps the community;
Victoria Hannley had a vision of making her children become more world aware and helpful in the community. What her thoughts have turned into are beyond her dreams. Her Crafting Kind Kids – an organization she created last year – has seen more than 600 individuals participate in her nonprofit.
"When we launched in August 2021, our plan was to offer one to two family volunteer projects per month," said Victoria. "By month three, we were providing volunteer opportunities almost every weekend! We are proud to have provided Tucson families with 37 hands-on service projects and collaborated with 21 nonprofits and community partners throughout this first year."

And she wants more. She's now one of the nearly 40 non-profit partners involved with El Tour as we head toward the 2022 event in November.
She'll help by encouraging volunteers and people to help raise $50 for Crafting Kind Kids and the organization will pay for a rider/cyclist in the El Tour Fun Ride. Visit https://www.craftingkindkids.org/volunteer for more information.
"Since everything we do is about getting kids and families involved in volunteering, specifically kids ages 8 to 13, I am offering that for the families.  We will pay their participation in the fun ride since we're family focused and that's a family-focused activity."
The tagline is 50 for 15. She could also include the fun time of riding a bike with like-minded people who want to enjoy the day on a bike. More than 800 young and family cyclists are expected to participate in the Fun Ride. This will be Victoria's first experience with El Tour.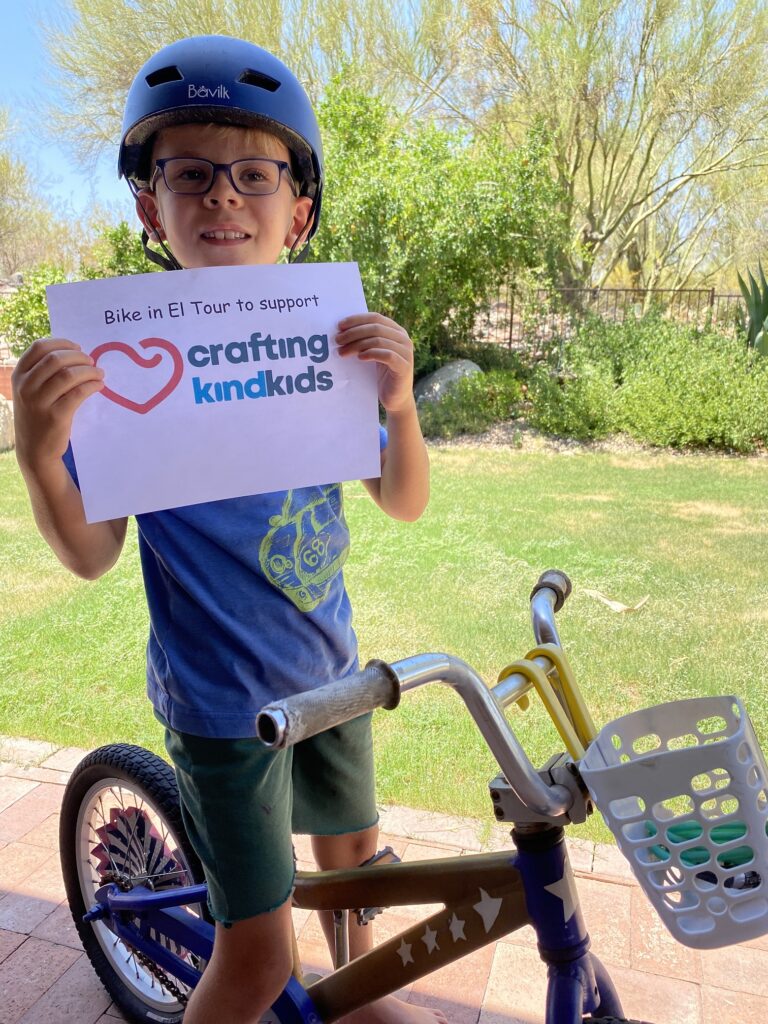 "Living in Tucson all these years, you can't help but know about El Tour," she said. "So, I've always known about it. Then last year (in August), I launched this nonprofit. I subscribed to so many different like local nonprofit newsletters and said I kept seeing El Tour logos. I started to look into it and decided to jump in."
It started unofficially four years ago when she wanted to get her then 9-year-old daughter into helping people or the community.
"I found how hard it was to find places that would allow younger kids (to help) even when you are then to help your child volunteer," Victoria said. "It had me frustrated. It sent me on this unintentional journey of seeking out nonprofits in town who were open to having kids and families come in and do whatever needed to be done."
More family members came on to help.
"You could see our family discussions changing," she said. "Their perspective changed because you had to drive to different parts of town that weren't part of your school area … all that was making a difference."