Newbie Cyclist tackles Zona with lots of love and pride: 'I'm proud of myself'
What's love gotta do with it when you're riding in the Benson Hospital El Tour de Zona?
Well, everything when you're love birds Miranda San Nicolas and Danny Carroll. They are engaged.
Figure that Miranda is a newbie to cycling, having received her brand-new bike in January with the idea that she'd ease her way into the sport. And, well, here she is a few hundred miles from home – Las Vegas, Nev. – riding in the three-day even here in Sierra Vista.
And figure before participating in Zona she had never ridden more than 10 miles in one outing.
Um, that's N-E-V-E-R.
She rode 24 miles on Friday and then 25 or so on Saturday. For the love of ….
"He talked me into it," she said. Most everyone went 62-plus on Saturday, going from Sierra Vista to Bisbee and back, but as she said, "I cheated. We drove to Bisbee and rode back."
How did it feel?
"Brutal," she said. "But I'm really proud of myself. It's a very mental challenge."
She said had planned on training harder to get ready for Zona, but got sick about a month ago. The trip – which included joining friends from Iowa – was already planned and they weren't going to back out.
Sunday, it's a shorter ride from Sierra Vista to Tombstone and back – maybe 17 miles each way. So, easier?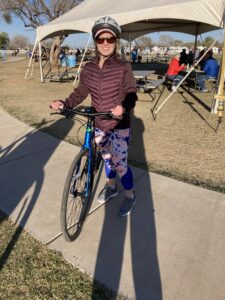 "That's what they keep saying," she said, laughing.
Danny chimed in with sayings: "The wind is your friend and the end is just around the corner."
She said she almost gave up "a few times" but pulled through.
"Like noodles," she said, when asked how her legs felt.
"I got a bad knee and bad hip but I made it," she said. "I'm surprised how well I did."
All those miles and yes, she still loves him.