Perimeter Bicycling Announces New Executive Director; TJ Juskiewicz named to run El Tour de Tucson
Perimeter Bicycling is proud to announce it has named TJ Juskiewicz as the organization's new executive director of the nearly 40-year organization.
He will work alongside Charlene Grabowski, who spent the last year as El Tour's CEO bringing her business acumen and affable personality to El Tour at a time when it was needed most. Grabowski helped lead the organization and put it on a strong financial footing by enlisting the help of many generous community partners as more than $6M was raised for charities in 2019 – fulfilling El Tour's mission to support non-profits with a cause.
"I'm absolutely excited about welcoming someone with the years and breadth of cycling event management and experience that TJ has," said John Cole, Perimeter Bicycling's Chairman of the Finance Committee. "We're looking forward to TJ leading the organization into this year's ride and the future. We'd also like to thank Charlene for her help and support of the organization. She took the El Tour team to a new level and hands that off to TJ for a running start."
Grabowski will remain with the organization through the end of the year, assisting with the 2020 ride set for Nov. 21.
"Throughout the last year, Grabowski indicated Perimeter was going to look for someone who has a cycling background, knows the business and can lead the organization into the future," Cole said. "We believe we have found that person in TJ Juskiewicz, who has extensive cycling and leadership background in the Midwest and the Southern part of the United States."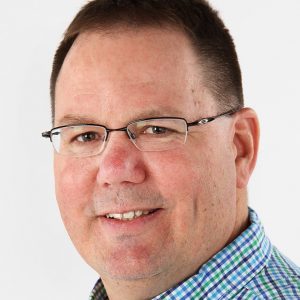 Juskiewicz officially will start his new role on July 1, 2020.
Juskiewicz brings with him more than 30 years of athletic event experience and a love of cycling. He has served as director of some of the country's top cycling events including RAGBRAI and Bike Florida.  Juskiewicz was also one of the coordinators of Bike South 2000, a 2,000-mile, 30-day, bicycle tour of six southern states.
He served several terms as the National President of the Bicycle Tour Network (previously called the National Bicycle Tour Directors Association).
"It has been a great 17-year ride in Iowa. It's on to the next chapter," Juskiewicz said. "I am excited about the opportunity to help with El Tour de Tucson. El Tour is one of the country's top cycling events and part of the culture of cycling in Arizona. Perhaps what appeals to me the most about El Tour is that since 1983 their events have raised over $100 million for local and international charitable organizations. I look forward to working on these great events."
Said Grabowski: "As CEO, I knew my business strengths could help El Tour, but I also always knew that we needed expertise in cycling and event planning. I am excited that we were able to get such a talented person in TJ to come and lead El Tour.
"I am not going away.  I am going stay in a consulting capacity through the 2020 ride and rest of the year.  TJ and I will be leveraging each other's strengths to create the best experience for our riders in this uncertain time."
In Perimeter's 37 years, it has raised more than $100 million for more than 100 charities.
Prior to Juskiewicz's work in the cycling industry, he served as director of Florida's Sunshine State Games, the state's Olympic-style multi-sport festival. He also worked in the marketing department of the University of Florida athletic department and at the 1996 Olympic Games in Atlanta.
He is a proud graduate of the University of Florida in Gainesville with a Masters in Sport Management and a Bachelors in Telecommunications.
He and his wife, Jodi, have been married for 21 years and have one son (Chase, 19) and a daughter (Cami, 17).  He was born in Jersey City, NJ but grew up in Sunrise, Florida.
For interview requests for Juskiewicz or Grabowski, please contact Steve Rivera at Media@eltourdeTucson.org or at (520) 661-5302 via text or call.
The 38th El Tour de Tucson, Arizona's largest cycling event and one of the 10 largest cycling events in the United States, is produced and directed by Perimeter Bicycling Association of America, Inc. and is scheduled for November 21, 2020. Cyclists of all ages and abilities may ride 100, 57 or 28 miles or a Fun Ride of 10, 5 or 1 miles.
Please visit www.eltourdetucson.org, follow us on FB @eltourdetucson,  @PerimeterBicycling; IG @tourdetucson; Twitter @tourdetucson